How Fit is the FIFA 17 Character Alex Hunter in Real Life?
You're probably playing the story of Tomiwa Edun's FIFA 17 character right now, but can he pull off all those moves?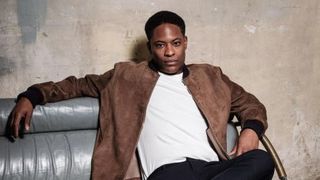 (Image credit: Unknown)
You're probably knee–deep into a campaign on FIFA 17, in which case you'll be very familiar with the face of Alex Hunter. Or, as he's known in real life, Tomiwa Edun. But how does keeping fit in the real world differ to a virtual one?
How would you rate your fitness on a scale of one to 10?
Oh why, why at this point in time? What's your 10? Where's Usain Bolt on this? I'm probably a seven – I find it very important to be in pretty good shape, just because it fuels your energy levels. When you're not worried and self-conscious about your physical state, then you're free and can avoid mental blocks. I find it very difficult to work without having exercised first.
What do you do, fitness-wise?
I do yoga now, because I can do it anywhere. I was surprised to find that there's lots of cardio and strength-building involved, too – and just the zen, as well. It's a great combination of factors; not just in life, but also in acting, which is all about exploring or trying to open yourself up as much as possible.
What's the highlight of your fitness week?
It's more of a daily routine, so the highlights are those breakthroughs when you suddenly push through a barrier or a wall that you've been hitting for a while. When you find it through ease, rather than effort – I always get a big rush during those kind of moments.
What will you never do again?
The most fun way to exercise is to do it with variety – it's kind of exhilarating to have pushed yourself in a new direction. I've enjoyed boxing, krav maga and Muay Thai, although I was doing some Kali stick fighting and I absolutely decked myself. The shock of the pain is something I'm not going to forget any time soon – it gave me a healthy dose of respect…
RECOMMENDED: Types of Martial Arts to Get You Fit
Was there any specific fitness preparation for FIFA 17?
I just had to make sure that I was properly limbered up every day, because although we're gaming characters, it was a full motion-capture job, so most of what you see in the game was actually done by us. Sadly not all the moves are mine, though…
How is your fitness fingerprint unique to you and your career?
I think the basis of my training is to be as available a human being as I can be. You can surprise yourself with your responses if you're genuinely receptive and available, and that's the most thrilling thing about performance. So that's why I think building a load of bulk and not being able to move with fluidity and freedom wouldn't be very helpful for my career.
Tomiwa stars as Alex Hunter in FIFA 17, out now on PS4, XBox One and PC
Sign up for workout ideas, training advice, reviews of the latest gear and more.
Gary Ogden wrote for the print edition of Coach between 2015 and 2016, writing features, interviewing celebrities and covering entertainment. He has also written for ShortList.