Fans of Trash Cinema Should See The Greasy Strangler
And here's what else is worth visiting your local picture house for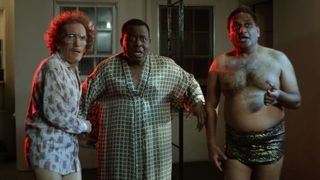 (Image credit: Unknown)
The Greasy Strangler
The mind boggles as to where the idea for this film possibly came from. A father and son live together in a skanky, retro house and run "disco tours" which involve lying to tourists about famous funk bands. Meanwhile, the father insists on only eating food utterly drenched in grease, in order to become "The Greasy Strangler" and rampage about town completely naked, dripping in slime, to murder people and eat their eyeballs.
If you're now scratching your head and/or sticking your fingers down your neck to make yourself vomit, you're completely justified in doing so.This neon masterpiece is a true original, packed full of completely insane characters, often played by actors seemingly hired on the weakness of their ability to act. Instead of trying to explain or understand it, it's best just to sit back (sick bag at the ready) and revel in the unrestrained and glorious bad taste that splatters about the screen in every frame. This isn't for everyone, but if you're a fan of trash cinema (and John Waters), then you'll be in gloopy heaven here. Altogether now: "I AM THE GREASY STRANGLER!" In cinemas October 7
The Girl On The Train
Based on the OK novel, this mystery thriller sees Emily Blunt as an alcoholic who slowly forms an obsession with a particular house she passes on the train every day. It causes her to get far more involved in other people's business than she should, so things start to crumble and people start disappearing and stuff. It's full of ridiculous twists and turns, but the cast is so great that it just about prevents it being a flashy Lifetime movie of the week. In cinemas October 5
My Scientology Movie
We're in usual, winning Theroux territory here: him looking bewildered and asking simple questions of people who end up shouting in his face. He also doesn't get far in his pursuit of new information about the Scientologists, but his charming persistence reminds the audience just how fanatically determined they are to resist answering any questions at all. As he doesn't get far, he uses the technique of "recreating" events from inside the Church of Scientology, using real actors, who audition for parts (he says he's making a movie), based on the testimony of members who've left the church. Louis is left scratching his head at the angry nuttiness of it all. In cinemas October 7
Under The Shadow
An English/Jordanian/Qatari horror film about the Iraq/Iran war is probably not something you've seen before, so why not change that and settle down in front of this brilliant example? Or maybe "settle" is the wrong word, as it's relentlessly tense and at certain points, screech-out-of-your-skin terrifying, but it's still most definitely worth watching.
It concerns a mother and daughter trying to live during the conflict in '80s Tehran, while an evil "Djinn" invades their home. It's not your usual haunted house horror, as it focuses far more on the human relationships than most fear-flicks do, but all the spooky shenanigans are still there to keep you up at night… In cinemas now
War On Everyone
People acting irresponsibly is always a joy to watch – just look at Jackass, Crank or anything with Nicolas Cage in it. In this latest flick from Irish writer/director John Michael McDonagh (Calvary, The Guard), the recklessness is taken to new levels, as two immoral cops (Alexander Skarsgård and Michael Peña) wreak havoc across New Mexico. If you've seen either of McDonagh's previous films, you'll know the kind of pitch-black comedy to expect, only this time it's shot through with a distinctly American twist (don't worry though, there's just as much swearing). It's like Bad Boys, but it actually lives up to its name. In cinemas October 7
Sign up for workout ideas, training advice, reviews of the latest gear and more.
Gary Ogden wrote for the print edition of Coach between 2015 and 2016, writing features, interviewing celebrities and covering entertainment. He has also written for ShortList.