The Very Best Stuff to Watch on Sky Q Right Now
How to fill in the time when you're not exercising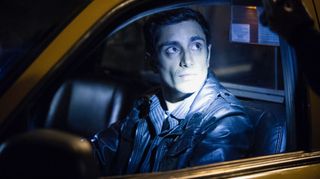 (Image credit: Unknown)
What the heck did we do on our rest days before the convenience of on-demand services? We can just about recall spending entire afternoons dedicated to recovery/doing absolutely nothing after hobbling to the local video rental store, but that's not really an option now. As for daytime TV – we want to rest our muscles, not our brain cells.
Netflix and Amazon Prime have a lot of stuff, but don't forget about your other options. One of the best is Sky Q – the new offering which includes more than 350 box sets across any number of devices online and off. Here are seven shows that caught our eye.
The Night Of
What is it? This eight-part nail-biter from HBO zeroes in on a single devastating evening in the life of Naz, a do-good college student who meets a girl, goes back to her flat and wakes up to find her brutally murdered. But if Naz didn't do it, who did? Herein lies the tension, by the absolute bucket-load, as the blanks are slowly filled in.
Why watch it? More gripping than an Alien face-hugger, the first episode had us stood up on our sofa, palms on cheeks, screaming and pleading at the TV.
Isn't that the guy from… Nightcrawler? Sure is. It's Brit actor Riz Ahmed up there in the driving seat, giving a career-best performance as the prime suspect.
Running time: Six hours 40 mins, or around the time it takes to escape from London to Penzance by train for some autumnal surfing action.
The Wire
What is it? A major player. A boss-level boxset that sits up there with other series gods like The Sopranos and Breaking Bad and has people saying, "What do you mean you've never seen it?" when you admit it's evaded your eyes until now. You've been missing out on a gritty, intense look into the bloody corruption that surrounds the sprawling illegal drug trade in Baltimore.
Why watch it? It's unique in that it manages to build a picture of a city through a vast array of perspectives, including drug dealers, cops, corrupt politicians and impoverished schools.
Isn't that the guy from… all the Bond rumours, Ibiza DJ sets, high-street fashion collaborations and Luther? Idris "Big Driis" Elba gets all hardcore gangster for his breakout role as Stringer Bell.
Running time: A hefty 2½ days. Almost the total time it takes your legs to recover from Tuesday night five-a-side.
House
What is it? Everyone, meet Gregory House, the doctor you both really do and really don't want to meet for a check-up. On the one hand, his crippling physical pain does nothing to appease his acerbic, brutally honest personality. But on the other, guy's a genius. Eight seasons of solving medical conundrums and saving lives ensues.
Why watch it? Oh, only because it was the most watched TV-show in the world at its peak.
Isn't that the guy from… Blackadder?! Yep, Hugh Laurie became the highest-paid TV drama actor in the USA with this series, raking in a cool $400,000 per episode. There's eight series to lap up here. Eight. Laurie did all right out of this.
Running time: Five days, nine hours, 48 minutes. The minimum amount of time it takes for your trainers to un-stink after completing a Tough Mudder.
Oz
What is it? Mega-violent and gruesome is what it is. Really. Take a look inside US maximum security prison Oswald State Penitentiary and thank your lucky stars you're a law-abiding citizen and not a big bad crim, because it's naaasty in there.
Why watch it? It's a landmark show. It's the drama that started it all for HBO back in 1997, and blew the minds of viewers and reviewers with it's shockingly dark and bloody scenes (although now these may seem pretty commonplace). You owe it to your Game Of Thrones obsession to pay some it some respect.
Isn't that the guy from… Whiplash? Uh-huh, that's Oscar winner JK Simmons assuming the role of dirtbag neo-Nazi inmate Vernon Schillinger, one of the nastiest villains of all time.
Running time: Two days nine hours, or around the time it takes to comfortably sit down again after a reaching new distances on your road bike.
Mid-Morning Matters with Alan Partridge
What is it? The return of everyone's favourite totally oblivious North Norfolk Radio presenter, failed television broadcaster, devout Rover enthusiast, catchphrase master and funeral ruiner.
Why watch it? It's Alan Partridge. You really don't need any more convincing, do you?
Isn't that the guy from… Aside from the obvious? Armando Iannucci is in the writing seat again. He's the comedy hero that created the likes of The Thick Of It and The Day Today.
Running time: Nine hours, or the time it sometimes shamefully takes us to actually get out the door for a Saturday morning run.
Father Ted
What is it? A dealbreaker show – by which we mean if anyone ever tells you that they don't enjoy it, remove them from your life immediately. This dual-national treasure, following the madcap existence of priests on the remote Craggy Island, is literally never not funny.
Why watch it? For Father Jack and his iconic and obscene boozed-up expletives? For Father Dougal and his IQ-of-a-butternut-squash stupidity? For the endlessly frustrating and tortured existence of Father Ted? For the range of brilliantly bizarre holy men that enter the lives of all three of them? Enough to be getting on with there, don't you think?
Isn't that the guy from… You name it. Father Ted turned out to be a great proving ground for Irish comedians. You'll catch glimpses of Tommy Tiernan, Graham Norton, Ed Byrne and Jason Byrne all cutting their teeth here.
Running time: Nine hours 36 minutes, almost the exact time to drive from London to Fort William in Scotland for a weekend-winning trek up Ben Nevis.
Twin Peaks
What is it? A superb slice of surrealism from master of the weird, director David Lynch. An FBI agent finds himself in small-town America to investigate the murder of a high-school girl, and pretty soon things get a little, er, odd.
Why watch it? There's a new series on the way, a full 25 years since the first two aired. Swot up now so you don't get left behind at the office watercooler.
Isn't that the guy from… two of Lynch's cinematic cult classics, Dune and Blue Velvet? Kyle MacLachlan's the name you're looking for, and his lead role here is his defining one.
Running time: It's 23 hours, or enough to make more than two weeks of your 30-minute commute suck that little bit less.
Sign up for workout ideas, training advice, reviews of the latest gear and more.
Craft beer drinker, Devonian, fisherman and former content director of Coach online, Chris contributed style coverage and features between 2016 and 2019.