Skream: I Used to Play Football But Everyone Was so Serious
The genre-hopping DJ and producer on the rivalry between fitness and fun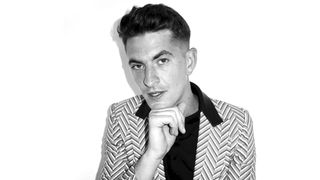 (Image credit: Unknown)
The influence that Skream has had on the evolution of electronic music is ridiculous, and as an artist, he's constantly evolving and switching genres. But with such a stronghold over the dance music scene, does his schedule permit any sort of appearance in the fitness arena?
How would you rate your fitness on a scale of one to 10?
I'd say one, just because I'm breathing. I shattered my shin and have just started walking again. I dance a lot, in various places around the world – I tell everyone I've got a history in contemporary dance. I also used to play football, but I stopped when I started making music. Half my team went professional, like Jason Puncheon and Liam Fontaine, but it was around the time I discovered other means of fun. Everyone was so serious and you'd end up having fights just because you messed up, so I was like "I can't be arsed with this." The other path looked more fun anyway.
How important is health and fitness to you?
I've got a little one, so I guess I should start caring. The gut is there and I remember my dad saying to me "Keep an eye on it because when you get to 30 and it happens, you can't get rid of it."
What do you do to motivate yourself?
Having a little one is definitely motivation because as bleak as it is, you want to live as long as possible, and burning it at both ends for 15 years isn't the best way of doing it. I've also noticed myself getting out of breath a lot easier – I smoke as well. Let's change my first answer to minus one…
Do you count a gig as a workout?
I sweat a lot, so surely it's got to be doing something right. I'm tapping my foot a lot, so I've got great calves – well, one great calf and one gammy leg. If you ever do a feature on right calves, I'm your man.
What will you never do again?
All of it? I used to hate football training – you'd be at school all day and then you'd have to go and do training. I hated the bleep test – I don't get the point. It's just someone's fitter than you are, that's all it is. They keep making the bleep, you don't.
How is your fitness fingerprint unique to you and your career?
You booze a lot. I don't drink half as much as I did when I was 18 – drinking vodka straight from the bottle, the thought of it now makes me feel sick. You're always out to entertain and I've always been obsessed with people and making them feel comfortable, so it's generally "Let's have a drink!" You constantly go places and you're someone's guest so they want to throw it all out for you, and that means giving you a shitload of booze – it's a party world. I'm still up on Monday ready to do anything though. I'm winning.
Skream is currently on his European tour and plays London October 28. Tickets available at skreamizm.com.
Sign up for workout ideas, training advice, reviews of the latest gear and more.
Gary Ogden wrote for the print edition of Coach between 2015 and 2016, writing features, interviewing celebrities and covering entertainment. He has also written for ShortList.