Ashley Walters On His Fitness Motivation: Vanity
The actor gets real about the motivation to stay fit and healthy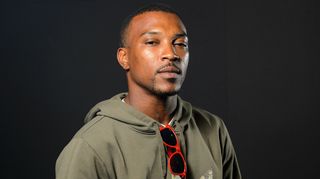 (Image credit: Unknown)
From touring with So Solid Crew to acting up a storm in acclaimed shows like Top Boy, Ashley Walters has lived a busy life, but how conducive is such a hectic schedule to his overall fitness?
How would you rate your fitness on a scale of one to 10?
I'd give myself a six, because focusing is quite hard in my job. I have some good moments challenging myself physically – usually in preparation for roles – but it drops off afterwards. Since I got into my 30s it's become harder to drop weight and get back to my physical peak.
How do you exercise when you're on the road?
I've just been filming in Wales and not having many days off makes it hard, as does getting up at 6am and back at 8pm – it's like, "Do I really want to go to the gym now?" On one of my few rest days I'll try to fit in a run, swim or gym session, but it ends up having no real effect because I'm not doing it regularly enough.
What do you do to motivate yourself?
It's vanity! I'm competing with people in good physical shape. If I take off my top next to them and they can act as well as me, they might have a better chance of a role, so I try to make sure I've got all the boxes ticked. When I go to Ibiza, I want to feel comfortable taking off my top on the beach. My wife accepts me, but I still want to push myself.
How is your fitness fingerprint unique to you and your career?
I could sit there and go "Being an actor means you don't have time to focus on your fitness because you can't control your environment," but you've got some brilliant actors that are all about health and fitness. However, if you've got a nine-to-five job, you always know where you're going to work and what time you're coming home, so you can plan your evenings. But in my job I don't know what's happening from one day to the next. Trying to fit a regime into that is quite hard. I've got eight kids too, so maybe not having eight kids would have made it a bit easier for me as well...
What will you never do again?
Nothing, to be honest – I've done a lot of different types of training and as strenuous and hard as they can be at the time, I always love having that challenge. It's like a drug in itself – being pushed and seeing how far you can go, so I've never shied away from it.
Ashley Walters will be in conversation at Southbank Centre's BAM – Being A Man festival on November 25. BAM, a festival that explores masculinity in the 21st century that runs from November 25 to November 27. Visit southbankcentre.co.uk/bam for further information.
Sign up for workout ideas, training advice, reviews of the latest gear and more.
Gary Ogden wrote for the print edition of Coach between 2015 and 2016, writing features, interviewing celebrities and covering entertainment. He has also written for ShortList.