Kevin James: Training For The Fight Scenes Was Intense
The star of Netflix's True Memoirs Of An International Assassin on the people who helped him to comedy potency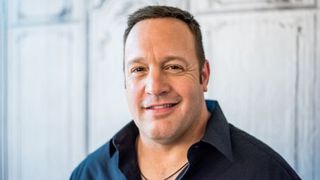 (Image credit: Unknown)
How did you get involved with the film?
The director Jeff Wadlow had given the script to Todd Garner, who's a producer I work with a lot, and we thought it would be a great departure for me and something different. 
When I looked at the script, which was on the Black List (a collection of acclaimed yet unproduced scripts), I saw great potential in it and thought it could be a lot of fun.
There's a lot of action in the movie – how did you find that?
I've always loved doing physical stuff in my movies, but this was by far the most demanding. We had a great stunt team and that helps in getting you prepared 
– I was down there a month early to train and work on choreographing the fight scenes. It was intense and I was sore before we even started rolling film, but when you prepare like that, you know that you're going to be able to really go for it and feel confident.
Was there anyone in particular that really helped you out with the fight stuff?
Yeah, the stunt coordinators Steve Ritzi (Jack Reacher, Looper) and Alan D'Antoni (Transformers: Age of Extinction, Breaking Bad) were fantastic. They had worked with a lot of stunt teams in the past but these guys were by far the best, and always safe. It felt great and it just went flawlessly, it was a lot of fun. Jenn A. Harris, Zulay Henao's stunt double was fantastic, too.
The film has some great actors, but is there anyone you'd like to work with that you haven't already?
There are tons of people out there, but we were so fortunate to get the guys we got in our movie, I love them all. Leonard Earl Howze was amazing – I loved him so much I put him in my TV show (Kevin Can Wait). Rob Riggle and Kim Coates were just fantastic, as was Andy Garcia. We were blessed to have these people in our movie and they did not disappoint.
With every film comes criticism, but who is your greatest critic? Whose opinion do you care most about?
It's weird, of course you want everybody to love it, but I've been doing it for a while now and I know that it's just not possible. The more somebody else is enjoying it the more you're going away from somebody else's sensibility, so it's always about casting that net out there and trying to find the largest audience you can.
Who do you run potential projects by before deciding on them?
I have a bunch of buddies I trust who 
will watch things for me and sometimes I'll bring it to other directors to look 
at. They'll give their input and they've been great – it's good to have a crew 
of people that you believe represent 
a lot of the people in this world. For me, it's about relatability and people seeing themselves in the characters that I play.
Who helped you out early on in your career?
Will Smith was a massive influence on 
my career and he helped me when 
I didn't have anything – he gave me 
a huge shot. And then Adam Sandler just took over and gave me opportunities to be in my own movies and do my own thing. He was the main drive in all of it and he's my greatest friend to this day – he's just such a loyal guy and always so great to work with. When I get to work with these people that I respect, I try to be a sponge and soak up what they do, how they deal with people and there's nobody better than Sandler. It's nice to see that there are good people like that.
Who were your heroes growing up?
My family and my dad – you strive after that and they're the ones who shaped me. They were supportive in everything I wanted to do and helped me along the way. I'm obviously a massive influence 
on my co-stars' lives too, I think that goes without saying – we all feel that, so we can move on, we don't need to address it.
They say you should never meet your heroes – have you ever found that not to be true?
There are people I've looked up to and respected and it's gone both ways. 
You might meet somewhere and you think, "Oh man, they're not as great as 
I thought" and it takes the air out of you 
a bit. I can't name names! But I know some guys where the opposite has been true. There's a UFC middleweight champion called Chris Weidman. He was just such a nice kid from Long Island and I said, "I want to meet that guy," because he seemed like such a good person. When I met him he was better than 
I could have imagined – just a really nice guy and that's always good.
Who is the kindest celebrity that you've ever met?
Henry Winkler and Jerry Stiller are brilliant. They are the definition of kindness and it's how they conduct their lives – they're just great people.
Which celeb is the biggest practical joker that you've encountered?
Once you can have fun on a set and you're comfortable with everybody, 
they can relax and you get the best 
work from them. They feel they can 
try things out and are less nervous, 
so I like loosening it up a bit. I'm not 
a Matt Damon – he does a lot of pranks 
– but if you get me, you're going to 
get it back. I'm like Liam Neeson, 
"I will find you…"
True Memoirs Of An International Assassin is on Netflix now
Sign up for workout ideas, training advice, reviews of the latest gear and more.
Gary Ogden wrote for the print edition of Coach between 2015 and 2016, writing features, interviewing celebrities and covering entertainment. He has also written for ShortList.