Ne-Yo: "Respect To Anyone Living That Vegan Life"
The multi-platinum singer on the secret beast he was in a previous life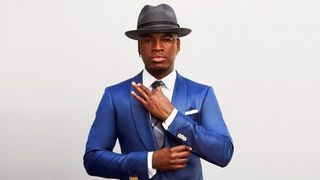 (Image credit: Unknown)
Ne-Yo's music has hit charts the world over, and is a staple of any radio, anywhere. So with such an omnipotent presence, how does he manage to fit in keeping fit with taking over the world?
How would you rate your fitness on a scale of one to 10?
It's not where it needs to be. I got married in February and had my third child in March – I was there for the entire pregnancy, so anything my wife ate, I ate. And now that he's here, it's easy to sit around with him and snack all the time.
I've officially jumped back on the trail, though: I'm back in the gym every day and back right with my diet – I can already feel myself getting back to where I was. Muscle memory is a real thing. As far as numbers go, six is an important number, because I've got to get my six-pack back. The gift and curse of my body is that it takes no time for me to lose it, but it takes no time for me to gain it, too. I'm always up and down, fluctuating, it really sucks. I don't want to be really slim, because I have a very large head, so the skinnier I get, the bigger my head looks…
How important is health and fitness to you?
It's the most important thing. I'm about to go back on tour and the road is trying for the most fit guy you know – it's not a lot of sleep, it's long hours, show after show. It's hard to eat right – you're travelling in between cities and the only places that are open are fast food or burger spots. That's the hardest part because I love food – I really feel like there's a 400lb man living inside me just trying to get out. But we're not going to let him!
How do you exercise on the road?
Calisthenics. I have a trainer in LA, but he doesn't travel with me. He'll give me a workout that I do in my hotel room. You have to make it a part of your day, otherwise you'll make every excuse. Then before you know it that 400lb man has reared his ugly everything.
What do you do to motivate yourself?
Knowing that there's no way for me to look the way I want to look by eating 17 burgers a day. Knowing what I want to feel like on stage – when I'm heavier I feel heavier, and my moves are not what I want them to be. That takes away from what I give the fans.
What will you never do again?
Much love and respect to anybody living that vegan life, because it is the hardest thing I've ever done in my life. I went vegan for a month and a half, and I loved the way I looked, but it was just so hard. I might have been a T-rex in my previous life because I'm a carnivore, I truly am.
How is your fitness fingerprint unique to you and your career?
If I wasn't a performer or entertainer, the demand for me to be fit wouldn't be as major, because when I'm not on stage as Ne-Yo, I'm just regular old Shaffer Smith. I'm at home with the kids and I've got to be a little fit to be able to chase them around, but as a dad I don't need a six-pack – my kids ain't trippin'...
Ne-Yo tours the UK from December 7, tickets available at robomagiclive.com
Sign up for workout ideas, training advice, reviews of the latest gear and more.
Gary Ogden wrote for the print edition of Coach between 2015 and 2016, writing features, interviewing celebrities and covering entertainment. He has also written for ShortList.