The Ultimate Boxing Comeback Movie
There's nowhere left for boxing movies to go after Vinny Paz's incredible true-life tale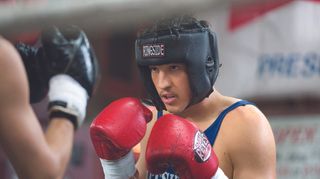 (Image credit: Unknown)
Bleed For This
There are a lot of boxing movies out there. Some are good (Rocky, Raging Bull), some are bad (Rocky V, Grudge Match), but essentially they're all about the same thing: somebody rising up against adversity to become either a champion in the ring, or in life. So how many more boxing stories are left to be told before it all gets a bit stale? Well, one more, it seems, in the rather miraculous true-life tale of Vinny Paz – a boxer who was at the top of his game until an almost fatal car accident. Bleed For This looks at the astonishing comeback from his devastating injuries, and is a downright uplifting tale as a result.
Miles Teller does his best GoodFellas impression as the Italian-American Vinny, and puts in a great performance both in and out of the ring. Supporting him, Aaron Eckhart is almost unrecognisable in a committed role that saw him pile on the pounds as his alcoholic trainer – they're a great team. Aside from the central setback, this doesn't actually bring too much that's new to the boxing movie table, but it's an inspiring and engaging story nonetheless. In cinemas December 2
Sully
The "Miracle on the Hudson River" is one of the 21st century's greatest rescue stories. In 2009, a plane carrying 155 people had both engines destroyed by a flock of birds, before the pilot made an emergency landing on the water and saved everyone on board. This film follows that pilot – one Captain Chesley Sullenberger – and his First Officer Jeffrey Skiles, in the run-up to, during and after the fateful flight. The landing itself is a spectacular and thrilling sequence – so much so that it's repeated a few times – and Hank and Eckhart play both the saviours fantastically well; but as a whole it's rather slow. If you've got the patience, however, it's an enjoyably astonishing story, told in a surprisingly understated manner. In cinemas December 2
Chi-Raq
Spike Lee's latest joint is a musical joint; one that holds an interestingly bizarre tone, but still holds all the hallmarks of classic Lee. The film follows a group of women who decide to deny all the men in their neighbourhood sex until they stop fighting each other. It's based on a classical Greek play called Lysistrata (which is also the name of the central female character), but brings it up-to-date and focuses on the gang violence that literally shoots through Englewood, Chicago. It's got a top cast, featuring Nick Cannon, Wesley Snipes, Jennifer Hudson, Angela Bassett, John Cusack and Samuel L Jackson, and if you can get past the peculiar style, there's a lot to like. In cinemas December 2
Moana
This colourful Disney animation has The Rock in it (people also call him "Dwayne Johnson" for some reason) and therefore, by default, is a must-see. He plays a legendary Pacific demigod who teams up with a 16-year-old who is tasked with saving her island by obtaining some sort of magical Macguffin or other (this part doesn't matter so much). Oh, and they're also accompanied by an absolutely hilarious rooster, which is something that should be a mandatory inclusion in all films. It's fantastically pretty, very funny and it features The Rock singing like a beautiful angel – surely there's not much more you could want than that? In cinemas December 2
A United Kingdom
This film focuses on the controversial marriage of Sir Seretse Khama, the first president of Botswana, with a white English bank clerk named Ruth Williams. At the time, the union caused a rift within the governments of South Africa and Britain (which provides the home for a particularly snotty turn from Tom Felton). Rosamund Pike and David Oyelowo play the star-crossed lovers and bring a tragic warmth to the proceedings – they're the perfect couple and it'll make you believe in the magic of love (if you don't already). Love stories are always more effective when they're based on real life, and this completely affirms that. In cinemas now
Sign up for workout ideas, training advice, reviews of the latest gear and more.
Gary Ogden wrote for the print edition of Coach between 2015 and 2016, writing features, interviewing celebrities and covering entertainment. He has also written for ShortList.