New Year's Eve and Xmas party grooming tips
You want to impress women at festive parties? Then follow these expert grooming tips.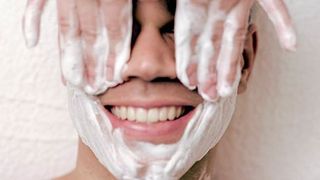 (Image credit: unknown)
LONG-TERM PREP

Facialise
If you've got a few days before New Year's Eve, now is the time to act if you want to look your best. 'Brighten up your skin by giving yourself a home facial once a week,' says Deborah Gayle from top London male grooming salon The Refinery. You might think it sounds girly but we're sure that the extra female attention you get will make up for that. Here's what you do:
- Steam
'Get a bowl of hot water and add a couple of drops of essential oil to it,' says Gayle. 'Put your face over it with a towel over your head. Stay there for ten minutes.'
- Exfoliate
'The steam will help to open up your pores and bring debris to the surface. Use an exfoliator to scrub away the debris.'
- Mask
'Apply a face mask and leave it on for five or ten minutes. Rinse it off with warm water, then pat your skin dry and apply a good moisturiser.'

Shape your brows
'A lot of men have heavy, shaggy eyebrows so you may want to think about doing some eyebrow shaping,' says Gayle. Women do it because it makes them look younger and you'll find that it will open up your face and give shape to the eye area. It's a traditional barber's skill available from The Refinery. It costs £19 and takes 15 minutes.
LAST-MINUTE TRICKS

Ice your eyes
'You can refresh your eyes by rubbing an ice cube around the eye area,' says Gayle. 'That will reduce any puffiness.'

Smell simple
'If you're wearing more than one product with a scent, stick to ones with similar smells. Conflicting smells, especially when there are a lot of them, can be a bit overpowering.'

Wash your hands
'Women look at men's hands and nails. If you don't take care of the bits of you that are on show, what does that say about what the rest of you will be like?'
For reviews of the latest grooming products, subscribe to Men's Fitness magazine. We'll give you five issues for just £5.
Sign up for workout ideas, training advice, reviews of the latest gear and more.