London marathon 2014: the essential survival kit
Ensure you've got everything needed to get you over the finish line with this essential marathon survival kit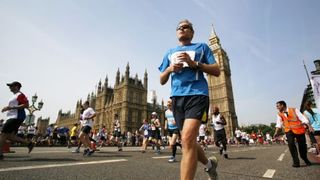 (Image credit: Unknown)
If you're doing the London Marathon, your training will be pretty much complete by now and attention will turn to those crucial items that can make the difference between finishing and not finishing, as well as beating your targets and giving you that extra boost when you most need it. MF has picked our essential marathon survival kit – you can thank us later if any of this helps to get you through.
---
Apple iPod Nano 16GB
MP3 Player
Music has become an essential ingredient for a successful marathon for many a runner. It helps to get you in the zone, pushing your body into a melodic autopilot as you attempt to move to the beat of the music. 'Music is like a legal drug for athletes,' says Costas Karageorghis from Brunel University's School of Sport and Education, one of the world's leading authorities on music and exercise. 'It can reduce the perception of effort significantly and increase endurance by as much as 15%.'
Apple's lightweight Nano – only 31g – is the perfect running buddy, with 30 hours of music playback, built-in FM radio and enough storage space for three marathons. It's a more sensible option than bringing your phone, but do double-check the marathon rules before bringing it along – we don't want to be responsible for you being disqualified.
Price :
£129
Apple (opens in new tab)
---
Jaybird BlueBuds X
Bluetooth headphones
Almost as important as the MP3 player are the headphones, which can make a surprisingly big difference to your marathon performance. Bluetooth headphones are great for long runs because they eliminate the prospect of an annoying cable getting in the way and, as these Jaybird BlueBuds X demonstrate, you don't have to suffer any loss in sound quality. Made for runners and complete with skip-free connectivity, Puresound technology and completely sweat-proof they're the perfect partner for your MP3 player. Plus, they last over six hours comfortably, so they'll keep going even if you run a fairly slow marathon.
Price :
£124
---
Small, light and portable, these race-savers are becoming more and more commonplace among marathon runners. Our muscles and liver can store enough glucose to get us through about 90 minutes of exercise, but when you pass this mark you're in danger of 'bonking', therefore it's important to keep the glycogen in your body topped up. Energy gels deliver a 25g hit of isotonic carbohydrate per sachet, giving enough energy for around 20-30 more minutes of exercise. Having a few of these can make all the difference, especially towards the end of the race.
Price:
Price: £29 for 6
ScienceInSport (opens in new tab)
---
Isotonic energy gels aren't the only way to replenish your carbohydrate stores during marathons – which is just as well since some people find them hard to stomach. If they don't appeal to you there are a number of other products that you could carry. Try oranges, bananas, dried fruit or gummy sweets such as jelly babies.
Check out our nutrition tips for runners guide for more info on this.
---
Oakley M2 Frame
Sunglasses
If the sun does grace the London Marathon with its presence you certainly won't want to be running around squinting for three hours or more – it's a headache waiting to happen. Sports performance glasses such as these Oakleys are ideal for long runs. With Three-Point-Fit technology for added comfort and to help ensure they don't fall off mid-run, they're worth the investment if you don't want to add tired cheek muscles to your list of post-race aches and pains.
Price :
£150
Oakley Store (opens in new tab)
---
The humble sweatband is useful for more than just 80s dress-up nights in east London – wrap one around your head to stop the inevitable waterfall of sweat getting in your eyes. You'll be surprised at how well it works in comparison to using your already sweaty arm or carrying around a lovely sweat-rag that you'll probably drop at some point.
---
Nike Free 4.0 Flyknit
Running shoes
Whatever the benefits of barefoot running, we don't advise it in a crowd of thousands on London's streets – you're going to need shoes. The revolutionary Flyknit from Nike increases flexibility in multiple directions, allowing for a far more natural movement of the foot when running. As well as the Flywire technology it also features Nike's sock-like Flyknit material, making it incredibly light.
Price :
£110
Nike UK (opens in new tab)
---
With all the great running tech put into clothing these days a comfortable and – especially if it's warm – breathable top is essential. The Nike Dri-FIT Touch helps you to keep comfortable on warm weather runs with its ultra-lightweight, sweat-wicking fabric. The top basically removes sweat from your skin to the fabric's surface, helping you keep cool, dry and comfortable. It looks cool too, which is always a bonus.
Price :
£35
Nike UK (opens in new tab)
---
If you're taking an MP3 player or your phone with you for your marathon motivational music, it's always a good idea to make a playlist to stop constantly fiddling around with your MP3 player when shuffle puts a chapter of an inappropriate audiobook in your ears (and you don't even remember downloading 50 Shades Of Grey!). But making a playlist that lasts the race could take a while and you may not even have that amount of music on your device. Enter Deezer – the music streaming service has created a five-hour marathon playlist. It has 69 tracks designed to help you dig deep, with a mix of genres from house and hip-hop to rock and pop with classics such as 'Eye Of The Tiger' on hand to help you over the finish line.
Price :
Free
Get it here (opens in new tab)
---
Sign up for workout ideas, training advice, reviews of the latest gear and more.
Coach is a health and fitness title. This byline is used for posting sponsored content, book extracts and the like. It is also used as a placeholder for articles published a long time ago when the original author is unclear. You can find out more about this publication and find the contact details of the editorial team on the About Us page.