Old vs modern cycling kit
How how has cycling kit evolved since the days of yore? Read on to find out.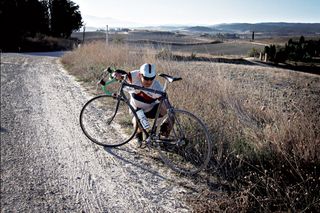 (Image credit: Unknown)
Down tube shifters v Shimano Di2
Up until the 1990s, gear levers on a bike lived on the down tube. As with most developments, the big change came from professional racing. Riders had to take their hands off the handlebars to change gears, which could give their opponents an opportunity to attack and gain vital metres. In 1990 Shimano introduced a system whereby the gear shifters were built into the brake levers, so now a rider could change gear without removing his hands and without inviting his rivals to attack.
Now Shimano has upped the stakes again by introducing electronic gear shifting with its Di2 groupset. A battery is attached to the down tube and a press of a button on the brake levers causes the gears to shift automatically and flawlessly. While many purists frown at the idea of electric components on a bike, the pro teams are adopting electronic shifters in their droves.
Shimano.com
Toe clips v Speedplay pedals
In the mid 1980s, French brand Look introduced the first clipless pedal where a cleat on the sole of the cycling shoe attached to a mechanism on the pedal that kept the foot solidly in place, but allowed for rapid removal when required. Up to this point, bikes used toes clips – straps that could be tightened over the shoe to keep it in place. The problem of toe clips was that if you chose to do up the straps tightly for maximum performance, you risked being inseparable from your bike in the event of a crash, which could result in serious injury. The new breed of clipless pedal provided the solution.
There are many different brands of clipless pedal now, but perhaps the most innovative is Speedplay. Its round shape allows the pedal to clip into the shoe whichever way up it lies (other pedals will only clip in from one side, requiring a bit of fancy footwork to get the shoe clipped in) and they are microadjustable so you can decide how tightly your foot is bound to the pedal.
Speedplay.com

For more cycling stories, get Men's Fitness. Subscribe now and we'll give you five issues for £5.
Sign up for workout ideas, training advice, reviews of the latest gear and more.