MF tests skate shoes
Look good and keep your feet protected while skating with these cool kicks, all available online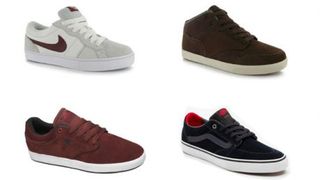 (Image credit: unknown)
Straddling the line between skate shoes and normal trainers, the Isolate LRs are super slim-line apart from the thick, padded tongue and ankle support that protect from ankle rolls and wayward boards. Pristine white side panels give them a smart, tennis vibe, while Nike have sensibly gone for a grey-coloured suede for the parts of the shoes that most frequently come in contact with grip tape, keeping them looking fresh after hours of skating. The only problem these kicks is that the laces are too exposed, especially near the toe, so you might want to put a bit of super glue on them before you roll away.
Price :
£34
---
Pro skater Mikey Taylor has some of the best frontside feebles in the biz, aided to some degree by the excellent pro model DC have created for him. Pill pattern tread guarantees excellent grip on your board (important when you need to lock into a long grind). The Wrap Cup Sole offers enough cushioning to stop your feet getting bruised when things go wrong and the tough, slightly set back suede upper makes them super durable even for those who like to go hard all the time. Finally, the minimalist look means they work just as well for chilling as they do for skating.
Price :
£65
---
Clean and minimal but with enough polyurethane padding to protect your feet when they get clipped by the edge of your board, these vaguely boating-esque sneakers are in that the elite group of skate shoes that perform well while looking fresh. They also feature a waffle gum rubber outsole and tough suede upper so they offer excellent board control and last surprisingly long given their barely-there feel. If you're planning to pick up a pair, our suggestion is to wear them in for a couple of days before you take them out for a shred - they're a bit stiff when you pull them out of the box.
Price:
£53
---
The first thing you notice when slipping these puppies on is the thickness of the ankle padding, so much so it feels like your ankles are constantly being hugged by a tiny man made of pillows. As well as the comfort and practical benefits [less ankle rolls and knocks to the bone], the mid design makes the shoe distinctive, helped by the grey Holmes-like tweed lining. The light, flexible sole creates a pleasingly tactile connection between foot and board, but isn't too great at absorbing heavy impacts, making this shoe better for tech skaters than those who like to go big.
Price :
£31.99
Sign up for workout ideas, training advice, reviews of the latest gear and more.
Nick Hutchings worked for Men's Fitness UK, which predated, and then shared a website with, Coach. Nick worked as digital editor from 2008 to 2011, head of content until 2014, and finally editor-in-chief until 2015.