Web tools that increase your free time and life efficiency
Create more free time and make your life more efficient by using the best labour-reducing tools on the web.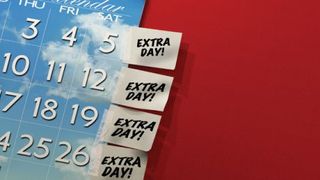 (Image credit: Unknown)
Librivox (opens in new tab)
Make commutes fly by with this huge archive of public domain books, read out by volunteers and free on MP3.

FasterAudio (opens in new tab)
And when you've got your copy of Moby Dick, get through it in double-time with this MP3-accelerating add-on.
Leech Block (opens in new tab)
Can't stay off Twitter in the morning? This free Firefox add-on lets you restrict your viewing of certain websites by time, or time of day.

Megashopbot (opens in new tab)
Save time shopping online by getting this price-comparison robot to hunt down bargains like David Dickinson crossed with the T-1000.
Zeezaw (opens in new tab)
Instead of feverishly checking Amazon every lunchtime, simply plug the stuff you want and the price you'd like to pay into this site, and it'll notify you when the price becomes available.

StayFocusd (opens in new tab)
This Google Chrome productivity tool lets you block websites with astonishing levels of customisability.
Nudgemail (opens in new tab)
Ignore non-pressing emails but be reminded of them later via a gentle online nudge.

Evernote (opens in new tab)
Brain-dump anything you like into one convenient space with this convenient way of saving ideas.
iTeamwork (opens in new tab)
Make bossing people about easier by assigning jobs and giving automatic reminders with this online tool.

Google Reader (opens in new tab)
Constantly hitting refresh on your favourite blogs? Get Google to tell you when they've been updated instead.

For more life-changing advice, subscribe to Men's Fitness. We'll give you your first five issues for £5. (opens in new tab) You can download a digital version of the magazine here (opens in new tab).
Sign up for workout ideas, training advice, reviews of the latest gear and more.
From 2008 to 2018, Joel worked for Men's Fitness, which predated, and then shared a website with, Coach. Though he spent years running the hills of Bath, he's since ditched his trainers for a succession of Converse high-tops, since they're better suited to his love of pulling vans, lifting cars, and hefting logs in a succession of strongman competitions.