Old school gyms
Think your gym is outdated? Think again. MF looks at gyms around the world that get great results from the crudest equipment.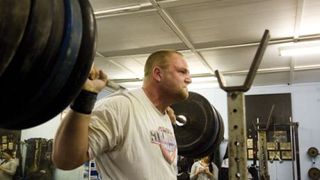 (Image credit: Unknown)
View Old-School Gyms in a larger map

Alcantara Gym Sao Paulo, Brazil
Blue marker on map This gym, founded by former pro boxer Nilson Garrido, is just one of several boxing academies situated under the bridges of Brazil's biggest city. Garrrido manages and lives in the academy under the Alcantara Machado viaduct, which is funded by donations and membership fees from anyone who can afford them. Training equipment is basic, and based on gear that Garrido developed during his years as a coach: old fridges are turned into punchbags, heavy rocks are used as weights, vehicle motor shafts are used as barbells and truck tyres are hit with sledgehamers. There's even a ring, though it's techincally part of a car park. Garrido is currently accepting donations of more advanced equipment in an attempt to expand the gym for sports such as gymnastics, skating and biking.

Hydropark Kiev, Ukraine
Red marker on map Part of a larger leisure complex on an island in the river Dnieper, Kiev's version of Califonia's Muscle Beach is free to all and run on donations, with equipment designed and made by the people who train there. Bars are made from old tank axles and chained down to prevent theft, and locals work out from early morning until midnight throughout the year. After a workout you can brave the chilly river waters, drink vodka in the Hydropark's clubs until the small hours or go celebrity-spotting - eight-time Mr Olympia Ronnie Coleman dropped in for a workout in 2010.

Atlantic Beach Dakar, Senegal
Green marker on map According to the locals, exercising has caught on in Senegal since 2002, when the national football team upset former colonial rulers France and made it to the quarter-finals of the World Cup. On this appealingly scruffy beach, equipment is made of scrap metal or salvaged wood, with weight plates on the barbells made of old drum brakes from trucks. The gym is especially popular with students from the local university, although the stunning sunsets bring crowds of runners from all backgrounds most evenings.
Temple of Pain Port-au-Prince, Haiti
Yellow marker on map There's a more upmarket Gold's Gym up the hill, but Temple of Pain - a former rubbish dump cleaned up and transformed into a gym by local bodybuilder Harres Desire - is where the locals work out. Machines are made from scrap metal and car batteries, weights are made from lead or old engine parts, and regulars have to stand on the chrome fender of a wrecked car to reach the pull-up bar. Membership is the equivalent of around £5 a month, a fraction of the cost of a Gold's membership but still out of reach for many of the people in the neighbourhood.

For more inspiring training stories, subscribe to the magazine. We'll give you five issues for £5.
Sign up for workout ideas, training advice, reviews of the latest gear and more.
From 2008 to 2018, Joel worked for Men's Fitness, which predated, and then shared a website with, Coach. Though he spent years running the hills of Bath, he's since ditched his trainers for a succession of Converse high-tops, since they're better suited to his love of pulling vans, lifting cars, and hefting logs in a succession of strongman competitions.