Men's Fitness Bodymusic iTunes mixes
Download the new Men's Fitness Bodymusic mixes from iTunes to power up your workouts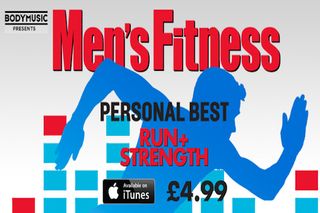 (Image credit: Unknown)
Bodymusic and Men's Fitness magazine have joined forces to create Personal Best Run and Personal Best Strength - music mixes designed to help you go harder when you're training.
Run
Going for a run in the wrong kit could well be stopping you from becoming a better runner. The same is true of listening to the wrong music. That's why you need Personal Best Run, a cardio workout comprising three separate mixes. As well as an adrenaline-pumping 30-minute main mix to help you tackle monstrous hills, take on vicious interval sessions or hammer around the track at lightning pace, it includes separate ten-minute warm-up and warm-down mixes to help you build up and unwind in and out of your runs for the right length of time and at the right pace.
Strength
Strength - comprising one 50 minute mix - starts with a ten-minute section to soundtrack your warm-up, and then kicks in with a pumping 30 minute power section, which increases in intensity throughout to energise you for your work sets. It finishes with a ten-minute cool-down to give you time for a chilled stretching session. It'll help you make big strength gains while enjoying some of the freshest house tracks around taken from the Defected catalogue and beyond. The compilation is a firm favourite with the Men's Fitness strength training crew so you can be sure it has the right intensity, variety and pacing to take your lifting to a new level.
Check out a teaser version of the Run mix below:
And Download them today if you want to turbo-charge your training with some of the finest dance music around.
Sign up for workout ideas, training advice, reviews of the latest gear and more.
Nick Hutchings worked for Men's Fitness UK, which predated, and then shared a website with, Coach. Nick worked as digital editor from 2008 to 2011, head of content until 2014, and finally editor-in-chief until 2015.