No Excuses workout 8
Every month strength coach Andy McKenzie gives you a brutal workout. This month's routine burns fat mercilessly. MERCILESSLY.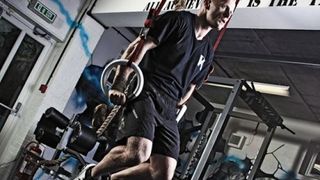 (Image credit: Unknown)
If you're following a fat loss plan but you're keen to see results even faster, this workout will set you on the right track. It's a seriously tough fat-torching session that will blast your body – and burn off loads of unwanted belly blubber.
The workout
You will need a weighted vest (10-20kg) that you will wear throughout the first round, then take it off to repeat the whole circuit. You need to time how long it takes from the start of the first round to the end of the second. You'll also need a 50-60cm high box and gymnastic rings if you want to progress in the dip. In total you're going to do 10 rounds with a vest, 10 without.
Exercises
Dead hang chin-up x2 - These have to be from a dead hang position to even count as a rep.
- Focus on a strong elbow drive as your chest aims for the bar.
- If you have a good-quality vest (try raptorweightvest.com) it will feel closer to the body and should stay in place better.
Inverted press-up x4
- Keep your glutes tight to prevent strain on your lower back, especially when using the vest.
- Your feet should stay together on top of the box.
Box jump x6
- Explode up with a fast hip drive.
- Step down rather than jumping to save the excess load on your knees.
Dip x8
- Using parallel bars will make it more stable.
- If you're feeling strong, progress to gymnastic rings.
Squat x10
- Don't have the vest too tight or your breathing will be impaired.
Run
- Convert your total time in seconds for both rounds to metres
- Put the weighted vest back on and run for that distance.
- The second round should be faster even though you'll be fatigued, because you're lighter.
- You can substitute a row for a run.
Who's the man?
Andy McKenzie is a UKSCA accredited strength coach and the strength and conditioning specialist for Kinetica Sports and male grooming company Poised, as well as being a sponsored athlete with Liquid Grip. For more of Andy's workouts visit ironmacfitness.com
Sign up for workout ideas, training advice, reviews of the latest gear and more.
Andy McKenzie is a UKSCA accredited strength coach, and a strength and conditioning specialist.