CrossFit workouts, part 5
With its unusual format, the fifth and final CrossFit Open Workout beasts all comers but especially the super-fit.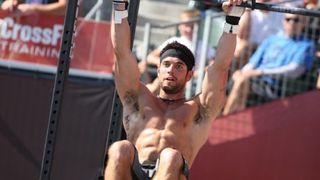 (Image credit: Unknown)
Workout 5, known to CrossFitters as 13.5, takes two common CrossFit movements and mixes them together in a highly unconventional way – one that punishes you more the fitter you are. CrossFit workouts aren't normally easy but this one is especially merciless.
The CrossFit workout
Complete as many rounds as possible in four minutes of:
- 15x thrusters with 45kg
- 15x chest-to-bar pull-ups
- If you can complete 90 reps (three full rounds) in four minutes, the time is extended to eight minutes.
- If you can complete 100 reps (six full rounds) in eight minutes, the time is extended to 12 minutes.
This format is a great test for all levels of CrossFit enthusiast. At the start of April some of the best CrossFit athletes in the world tried this workout. Samantha Briggs from the UK went toe to toe with Camille Leblanc-Bazinet from Canada, while the 2008 Games winner Jason Khalipa went up against the defending, two-time Games champion Rich Froning. 'Only Froning and Leblanc-Bazinet went into the 12-minute section, which clearly indicates just how tough this is will be both mentally and physically,' says Carl Dickson of Reebok CrossFit Stockport.
Dicksonn ooffers his tips on how best to tackle the workout. 'Both the thrusters and the pull-ups rely heavily on efficient movement of the hips,' he says. 'If you don't get this right you'll fatigue all your surrounding muscle groups and will quickly burn out. Another way to avoid blowing up is to give yourself achievable targets by breaking up the sets and reps. You should also set yourself maximum rest times between sets and reps to avoid massively eating into the work window.'
Carl Dickson, Head Coach at Reebok CrossFit Stockport, was speaking to promote the 2013 Reebok CrossFit Games Open, the world's most inclusive fitness competition. For more information visit games.crossfit.com
Sign up for workout ideas, training advice, reviews of the latest gear and more.
Nick Hutchings worked for Men's Fitness UK, which predated, and then shared a website with, Coach. Nick worked as digital editor from 2008 to 2011, head of content until 2014, and finally editor-in-chief until 2015.