CrossFit vs NPGL
In our August 2014 issue, MF analysed the fledgling NPGL to find out how it would measure up against the CrossFit Games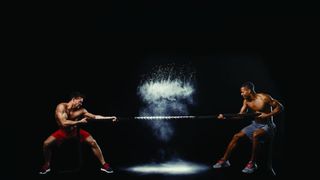 (Image credit: Unknown)
Each year, more than 120 aspiring professional athletes make their way to the Fairplex Event Centre in Pomona, California, in the hope of being offered a paying contract. After three days of physical testing – including deadlifts, pull-ups and shuttle runs – a select few were a step closer to signing with teams including the LA Reign, DC Brawlers and San Francisco Fire. Over the following week, similar events happened in Las Vegas, Dallas, Atlanta and Boston, attracting hundreds more competitors and thousands of spectators.
The sport? A series of team-based head-to-head races to finish different workouts. Tony Budding, creator of the National Pro Grid League (formerly the National Pro Fitness League), calls it 'human performance racing'. And he thinks it's going to be big. CrossFit big.
'We're borrowing practices from the best sports out there,' says Budding. 'We're doing races between established teams, a league format, play-offs, strategy, teamwork… it's unique.'
Games without frontiers
Not everyone agrees with the 'unique' part. The CrossFit Games, held annually in California since 2007, has evolved from a get-together in a field to a stadium-filling televised event with individual, masters and team categories and a $350,000 (around £207,000) grand prize. Most of athletes at the NPGL tests, or 'combines' as they're known, were competitive CrossFitters, and the moves they competed in – everything from skipping-rope double-unders to overhead squats and Olympic lifts – were all CrossFit staples. But it's not that surprising: Budding spent six years as the CrossFit Games' co-director and producer.
'I use a lot of the same moves because they are high-skill, high-power moves,' says Budding, who left CrossFit in 2013. 'But really, I'm trying to create a sport that's easy to follow and fun to watch. It'll always be the same format – every match will include 11 "races" across a specially designed grid, and every match will take place in two hours, so it's easy for spectators to follow.'
He doesn't say it, but this is a stark contrast to CrossFit, where events aren't always what you'd call viewer-friendly. The Games take place over several days, and events are often announced at the last moment. In 2012, in line with CrossFit's claim to test the 'unknown and unknowable', the Games started two days before the athletes (and spectators) expected, with an off-road triathlon and military obstacle course at Marine Corps Base Camp Pendleton, where onlookers couldn't get in for security reasons. In 2013, the contestants did a half-marathon. On rowing machines.
'The Games athletes and the [NPGL] athletes won't be the same,' says Budding. 'In our sport the longest single race is a relay, which takes six minutes. If you specialise in the one- to five-minute domain, you won't be able to compete at the CrossFit Games. If you're a CrossFit Games athlete and you can be that good for that long, there's no way you're a specialist in the one- to five-minute domain. If there's enough money at stake, I think you'll eventually see people who train every day throughout the year to become top athletes in that one- to five-minute domain.'
Cross roads
It's hard to know whether CrossFit's powers-that-be regard this as a problem. CrossFit is a well-established brand, with thousands of affiliated gyms around the world. But currently, only podium finishers at the Games and winners of individual events are guaranteed any financial reward for competing – although many athletes make money through sponsorship. The NPGL, by contrast, guarantees athletes at least $2,500 (£1,480) in sponsor-sourced 'dressing fees'. It's obviously not enough to be a full-time athlete, but Budding is hopeful that 'we'll be big enough to get there in a couple of years'.
'It was only a matter of time before the introduction of paid fitness athletes, but I was never sure if CrossFit would incorporate it,' says James St Leger, who has never competed in the Games but is a regular competitor in events not endorsed by CrossFit, such as the Battle Of London, which attracted 3,000 spectators in 2014. 'It'll be interesting to see what the primary focus of individuals taking part in either sport will be – earning a guaranteed wage in the NPGL, or chasing a larger prize in the CF Games.'
For many top athletes, the answer seems to be 'both'. Two-times Games winner Annie Thorisdottir has joined the New York Rhinos, while LA Reign has a squad featuring several popular CrossFit names, including Elisabeth Akinwale, Lindsey Valenzuela, two-time CF team event winner Tommy Hackenbruck and Mancunian Sam Briggs, the 2013 Games winner.
Three-time Games winner Rich Froning – whose claim to be the Fittest Man In The World is hard to dispute – has reportedly ruled himself out of joining the NPGL, but he also mentioned that the 2014 season may be his last as an individual. In 2013, he captained an all-star US team against a squad of Europeans in a special one-off event – Froning did brilliantly, but couldn't quite drag the Americans to victory.
Friendly competition
Here things get even more intriguing. CrossFit has yet to comment officially on the NPGL – and HQ declined to be interviewed for this feature – but the organisation has responded, in a way. On 27th May 2014, the official CrossFit Games page announced an 'online team fitness competition' for teams of two men and two women, set to run across three events at the end of 2014. The format, similar to the 'Open' that kicks off the Games season, relies on video submissions of workout scores, and there are prizes for winning teams. It's a low-cost, low-risk venture, but it gives CrossFitters something else to train for.
Meanwhile, CrossFit's semi-official spokesman Russ Greene has been sniping on social media. He dismissed the NPGL on Twitter, saying 'They're not testing fitness', while on Facebook he accused the league of using misleading stats and publishing CrossFit-owned material without consent.
Others are less aggressive. Founder Greg Glassman, who describes himself as a 'rabid libertarian', once said (though not in reference to the NPGL) that 'markets, to the extent that they are free and unfettered, will move capital in the direction of excellence'. Let the best competition win, in effect.
Whether this extends to letting athletes compete wherever they want remains to be seen. One of CrossFit's biggest problems has been solved for now: that of Briggs, winner of the 2014 Open and Games favourite, jumping ship. Although she came first in three events during the Regional section of the competition, a 26th-place finish in the 'handstand walk' event left her fourth overall and out of this year's Games. Speculation ran rampant that, as defending champ and Open winner, she might be invited through a 'wildcard' system hinted at in January 2014, but games director Dave Castro quashed it. 'No-one's getting a wildcard slot, and the right people are going to the Games this year,' he said in an interview at the South California regional.
Budding, meanwhile, seems to think both brands can coexist. 'This league will send millions of people to CrossFit gyms,' he says. 'I've looked at what the UFC is doing, opening gyms, and in my opinion it's a bad business decision. This is a different model. We're a spectator sport and we want to go around the world with European, Australian and Asian Pro Grid Leagues.'
Gym dandy
The question is: what will this do for fitness? Whatever you think of CrossFit, its effects have been hugely positive. Ten years ago, for instance, there were probably fewer than half a dozen gyms with Olympic lifting platforms in London. Now there are 30 official CrossFit affiliates in Greater London alone, all offering areas for practising Olympic lifts, and all the major UK gym chains have embraced functional, machine-free training, and it's rare to see a large gym without a set of gymnastic rings or a plyometric box. A generation of gym-goers have been exposed to moves such as the deadlift, front squat and muscle-up and encouraged to train hard, get stronger and eat sensibly.
It's probably fair to say that CrossFit has exposed more people to effective training techniques than any other fitness movement in recent decades. Budding thinks the NPGL will bring the message to an even wider audience – helped by the team requirements. Each eight-person squad must be 50:50 female and male, and include at least two athletes over the age of 40.
'From a storytelling standpoint the athletes will mirror the audience better than in any other sport,' says Budding. 'If you look at day one at the end of the CrossFit regionals, masters [over 40s] are often in podium positions. After day three they can't keep up because their recovery isn't quite there. But we've got a two-hour match so our 40-year-olds will be able to hang with the younger guys. People might initially watch a woman do 35 pull-ups in an event and think, 'Of course she can do that, she's a professional athlete', but we'll play up the fact that she's 42 with three teenage sons.'
Some CrossFit exercises have come in for criticism. 'Butterfly' pull-ups, which involve using leg kicks and momentum to get over the bar, are a CrossFit staple but they're not popular among trainers, who think they put too much stress on the rotator cuffs. There's also an argument that CrossFit focuses on a narrow range of skill moves – skipping double-unders and handstand walking, say – while neglecting others.
Move the goalposts
Budding's a fan of the CrossFit moves, but there are early indications that the NPGL might change things, as St Leger points out: 'There were farmer's carries and yoke walks at the combine. I'd like to see more of that strongman, powerlifting-style stuff.' It would shake things up: with more Atlas stones and less Olympic lifting, the typical CrossFit leaderboard could change dramatically.
Is there really enough interest in watching people do deadlifts to sustain two major sporting competitions? Will CrossFit take more action to undermine the NPGL? And will gym training become a professional sport? One thing's for sure: sponsorship and media coverage will raise its profile, and that means new moves, techniques and kit reaching more people everywhere. Most of us will never be the world's fittest man – but it's never been easier to get strong and fit.
Sign up for workout ideas, training advice, reviews of the latest gear and more.
Coach is a health and fitness title. This byline is used for posting sponsored content, book extracts and the like. It is also used as a placeholder for articles published a long time ago when the original author is unclear. You can find out more about this publication and find the contact details of the editorial team on the About Us page.