Nelly's workout
Grammy award-winning hip-hop star Nelly works hard every day to stay on top and to stay fit.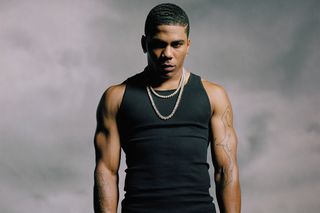 (Image credit: Unknown)
Hip-hop star Nelly has been a successful rapper for nearly 20 years, first with his group St Lunatics and as a solo artist with huge hits including Dilemma and the global smash Hot In Here. But the three-time Grammy winner's achievements aren't restricted to music, since his breakthrough in 2000 with Country Grammar Nelly has also started his own clothing line, launched a charity that raises awareness of leukaemia, bought a minority stake in the NBA's Charlotte Bobcats, and put on nearly 14kg of hard muscle.

The past few months have seen the release of both his latest album, 5.0, and the DVD Celebrity Sweat, which reveals Nelly's training secrets. In the gym, I try to do everything I can, he says. I isolate, I do cables, I use the Smith machine, I bench.

When his hectic schedule allows, Nelly, born Cornell Haynes in 1974 lifts five days a week. If I'm busy, I get in two or three days just to maintain. Timing is never an issue. If I'm recording, I'm in the studio until six or seven in the morning, he says. Then you go home, get some sleep, get to the gym anywhere from 9pm to midnight. Sometimes later.

For cardio, Nelly focuses on his love of sports. I don't do treadmills, he says. I did try a cycling class but a 55-year-old lady kicked my ass and I was done.' Mostly he plays basketball. It gives me everything, he says. I get the agility, the stretching, the stop and go, the jumping. If you play full court, you're getting the sprinting in, too.
Nelly's eating plan is just as straightforward. I used to be a vegetarian but now I eat chicken and I eat turkey. I'm not a great cook, but I do it well enough not to starve.

His favourite muscle-building meal? My speciality is probably turkey burgers. They're the best, Swiss and American cheese, lettuce, Thousand Island dressing. Thanks to good genetics and all that dedication, the only time he had to change his meal plan was after landing a role in the 2005 movie The Longest Yard, for which he needed to bulk up to convince as an American footballer. They wanted me to play a running back and I looked like the water boy, he says with a smile. I thought it was best to look the part.
The Nelly workout
Nelly works his chest hard with pyramid training, lowering reps and adding weight to keep his body guessing
1 Incline dumb-bell press
Sets 4 Reps 15/12/8/6
2 Flat Smith machine bench press
Sets 4 Reps 15/12/8/6

3 Dumb-bell pullover
Sets 3 Reps 15/12/8/6

4 Cable crossover
Sets 3 Reps 10 high/10 middle/10 low (no rest)
For more celebrity workouts, subscribe to Men's Fitness magazine. We'll give you five issues for £5.
Sign up for workout ideas, training advice, reviews of the latest gear and more.
Coach is a health and fitness title. This byline is used for posting sponsored content, book extracts and the like. It is also used as a placeholder for articles published a long time ago when the original author is unclear. You can find out more about this publication and find the contact details of the editorial team on the About Us page.