Lena Headey's 300: Rise of an Empire workout
Call yourself a man? Try and keep up with the workout Lena Headey used to get in Spartan shape for 300: Rise of an Empire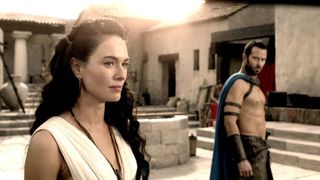 (Image credit: unknown)
Unlike 300, there was no 'final' challenge for the cast to tackle - though every workout was tough in its own right. Want a challenge? Try one of the sessions that Lena Headey put in to play Queen Gorgo, and try not to collapse.
Or put yourself through the gruelling 300 rep workout the cast of the first film used to get so strong and ripped for filming.
The workout
Row 10 minutes: easy pace
Two rounds of the following with 2-3min rest between rounds:
Lunge 10m forward
Lunge 10m backward
10m of 5sec plank + broad jump Lunge 10m forward
Lunge 10m backward
Three rounds of:
10m dumbbell bear crawl with one-arm row in each 'step' using 5kg dumbbells
Three rounds of the following with 1min rest between rounds:
10x ball slam (5kg ball) and lateral jump over parallette
20m bear crawl
Then:
20x step-up (10 each side) on 25cm box
Five rounds of the following with 30sec rest between rounds:
Box jumps on 45cm box – 30sec
Step-ups on 45cm – 1 min
Warm down
Sign up for workout ideas, training advice, reviews of the latest gear and more.
Max was the head of digital content for Men's Fitness which worked alongside Coach between 2015 and 2019.