Target Your Upper Chest By Pressing From A Different Angle
Tilt your bench and feel the burn in those upper chest muscles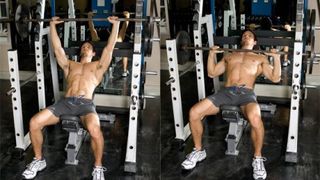 (Image credit: Unknown)
Adding a tilt to your bench targets your upper chest muscles.
Set the bench at 30-45˚ and sit with your feet flat on the floor
Grip the bar with hands wider than shoulder-width apart, brace your core muscles and remove the bar from the rack
Hold the bar directly above your chest, elbows to the sides
Lower the bar slowly to your chest and press up powerfully
Don't arch your back
Variation: Gym ball decline press-up
The additional wobble means your core gets a good workout as well as your upper chest, shoulders and triceps.
Get into a press-up position with your feet together on the ball
Don't let your hips sag
Drop down until your nose almost touches the floor
Variation: Incline dumbbell press
Using dumbbells works each side of your chest independently, preventing your stronger side from doing all the work.
Sit on the inclined bench holding dumbbells at shoulder height, palms facing forward.
Press the weights straight up.
When you don't have a spotter to help you, the Smith machine lets you press heavy weights in safety.
Place the bench so the bar sits directly above your chest.
Press up quickly and drop the bar down slowly.
Sign up for workout ideas, training advice, reviews of the latest gear and more.
Former editor of Men's Fitness UK
Joe Warner is a highly experienced journalist and editor who began working in fitness media in 2008. He has featured on the cover of Men's Fitness UK twice and has co-authored Amazon best-sellers including 12-Week Body Plan. He was the editor of Men's Fitness UK magazine between 2016 and 2019, when that title shared a website with Coach.