Eight Tips To Help Your Body Tap Into Its Fat Stores
Here's how to make sure your metabolism is firing on all cylinders every minute of the day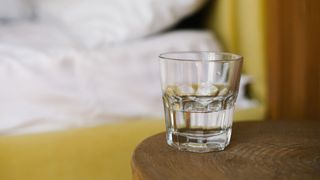 (Image credit: Anna Blazhuk / Getty Images)
Once you've nailed your abs training and are following a six-pack-friendly diet, use these extra tips to expose your abs faster by reducing your body fat percentage.
6AM Drink water
Getting properly hydrated not only improves physical and mental performance – which raises your game in and out of the gym – but has also been shown to have a direct effect on the mechanisms of carbohydrate and fat metabolism, which translates to an increase of a quarter in the rate of thermogenesis. Result? Your body's a more efficient fat-burning machine.
7AM Skip the toast
Muscle tissue is insulin-sensitive, soaking up carbs at this time of day – but, according to research in the journal Cellular And Molecular Endocrinology, so are fat cells. What this means is that while both will be absorbing carbs, in the case of fat cells that carbohydrate will be converted to fat and stored. Have eggs instead – their omega 3 fats also improve insulin sensitivity.
RECOMMENDED: A Cracking Healthy Breakfast Recipe – Eggs Florentine
8AM Chill out
Commuting is always stressful, and research from Australia's Deakin University showed that acute stress can increase the desire to consume sugary foods. Plug in to Marconi Union's eight-minute trance track "Weightless" (or any tune with a BPM of 60) – it'll synchronise with your heart and brainwaves, enabling you to ignore bag-spreading seat-hoggers.
10AM Get up
Sitting is the new smoking – associated with increased risk of diabetes and obesity – but it's more than just not using calories. Sitting actually changes the body at a genetic level, with gene expression changed when sitting. Your prescription? It's not brain surgery – just get up for at least five minutes every hour.
12PM Eat
Fasted cardio is trendy – but the opposite is the smart choice. Research from Michigan State University shows that eating carbs and protein before training improves the work rate and duration of exercise, increases the amount of fuel used and shifts the balance towards fat usage. Even better, the effect can last for a day or more after the training session.
7PM Eat carbs
Heard you shouldn't eat carbs after 6pm? This may be dead wrong. Research in the journal Obesity shows that eating the majority of your carb intake in the evening encouraged lower body fat levels in test subjects. The night-time carb eaters also reported feeling more satisfied with their diets (and it undoubtedly makes socialising easier too).
9PM Drink early
Alcohol inhibits fat usage by putting pressure on the liver – and if drunk shortly before going to bed, it can affect growth hormone output. Often called the "hormone of youth", growth hormone increases fat metabolism and aids muscle recovery, but research in the journal Metabolism shows that consuming alcohol before bed can reduce output by around 70%.
RECOMMENDED: Five Easy Ways To Cut Down On Drinking Alcohol
11PM Go dark
Light exposure alters sleep depth and duration, which can alter hormone production and make you more prone to fat gain. Poor sleep also changes appetite by disrupting the "hunger hormone" ghrelin, according to a Harvard University study, while research from the Mayo Clinic shows that it increases calorific intake, but not expenditure.
RECOMMENDED: More Tips For Speeding Up Your Metabolism
Sign up for workout ideas, training advice, reviews of the latest gear and more.
From 2008 to 2018, Joel worked for Men's Fitness, which predated, and then shared a website with, Coach. Though he spent years running the hills of Bath, he's since ditched his trainers for a succession of Converse high-tops, since they're better suited to his love of pulling vans, lifting cars, and hefting logs in a succession of strongman competitions.