Team Men's Fitness Training Blog
Team MF's twin brothers hit the hills, both with the intention of thrashing the other out of sight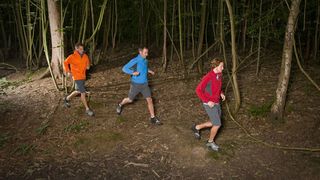 (Image credit: Unknown)
Nick
Motivation for training has never been easier for me as this week: Lance Armstrong is back in the Tour de France. For me, you can't beat the Tour for getting the inspiration to go out and try to destroy yourself on whatever session it is today. Those guys are insanely tough – one of the teams recently competed in wrist bands which had 'HARDEN THE FUCK UP' written on them. That's a pretty good training mantra to adopt.

The best session this week was when I was running through woods as massive storms ripped through the sky overhead. At the time I couldn't remember whether or not it was a good thing to be surrounded by trees in a storm, as the ground turned into a lake under my feet. Perhaps it wasn't the brightest move but I was totally pumped during the run, so I just kept going – fast. I figured if you're going to get hit by lightning, you may as well be running.

I also had a great session on Saturday: a three-hour run and bike flat out before breakfast, then I went out to Steve's and rode hills reps in the afternoon. I kept up with him for six hills – about 1hr 40min of cycling – before he turned to me and said he was going to start going at 100 per cent! Steve's turned into a beast on the bike, so this wasn't much of a shock. In a perverse way I think it's good for you to get smashed by someone else during training, although it hurts more when it's your brother.
Steve
Without doubt the highlight of my week was dropping Nick on a training ride. I took him out to the hills I train on where we planned to do multiple reps for a few hours. Naturally we soon starting racing each other, upping the tempo on every hill, until on the last one we were both going full pelt. Nick cracked first. I could almost hear the lactic acid surging into his legs. Since I'm such a kind brother, I kicked harder just so the effects of defeat could really sink in for him!

Because of my foot injury I'm still doing nearly all my training on the bike so it's good to see it's working – I hope it has the same effect on my running. Certainly I feel much stronger and fitter than I have for a long time. But the reality is I'm going to be going into the Classic Cliffs Ultra – a 94km race in Cornwall Nick and I are doing on 25th July – having not run for two months. I've even avoided walking as much as possible.

In light of that I've been doing a lot of really high intensity sessions which I'm hoping will minimize the amount of pain the Ultra Trail du Mont Blanc will inevitably bring. I think the combination of high altitude and deep fatigue will push our heart rates to near maximum. So spending a lot of my training time feeling like I might throw up seems the sensible thing to do.
Sign up for workout ideas, training advice, reviews of the latest gear and more.
Nick Hutchings worked for Men's Fitness UK, which predated, and then shared a website with, Coach. Nick worked as digital editor from 2008 to 2011, head of content until 2014, and finally editor-in-chief until 2015.