Team Men's Fitness blog - 21/07/09
It's not all plain sailing as Team MF prepares for the punishing mountain race that's looming ever closer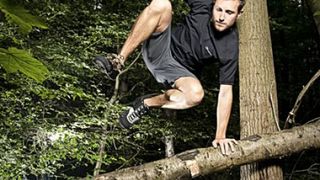 (Image credit: Unknown)
Darren
I've been on my honeymoon in Corfu and Paxos for the last two weeks. As well as beautiful scenery and golden sands, a beach holiday always offers something in terms of trails. So every day I pulled on a pair of shorts and trainers and sneaked in a run before my wife woke up. At 907 metres, Mount Pantokrator on Corfu offered a serious test. Still, surrounded by cypress-clad hills, plunging steeply down to picturesque bays and the bluest of seas, it was hard not to smile as I powered up and down it. I spent an hour and a half every morning on a rocky trail with no other human in sight, breathing in huge gulps of air infused with oregano and lavender. Cicadas blazed a shrill tune in the background as the heat soared to 35˚C, my Berghaus tech T-shirt thankfully wicking sweat as soon as I generated it. I saw webs spun by spiders as big as £2 coins, as well as the odd snake – the largest of which was over a metre long and scared me half to death when I nearly trod on it, jolting memories of the Namibia Ultra Desert Marathon. A bite in the middle of nowhere would not be fun. I'm back in Blighty now and continuing the effort in preparation for the Lakeland 50 trail run on 1st August. It's just a shame I can no longer finish my training runs by diving into the Mediterranean.

Steve
At the end of next week Nick and I are travelling down to North Cornwall to race in the Classic Cliffs, our final qualifier for the Ultra Trail du Mont Blanc. It would be easy to dismiss it as a gentle little warm-up for our trip to the Alps. But having looked at the course that would be a pretty big mistake. This 92km ultra goes from north Cornwall to north Devon, taking in 4,500 metres of vertical gain, with a midnight start and an 18-hour time limit. At this point before a 170km mountain race like the UTMB we should really be tapering, but this doesn't sound like the kind of race in which you can hold back. The organiser Endurancelife promises 'awe-inspiring coastal views, waterfalls crashing into secluded rocky beaches and enchanting woodland'… it sounds like a country stroll, but the elevation map of the course resembles a saw blade. I'm not trying to leave this post on a cliffhanger – or to make a bad cliff pun – but I still haven't been for a run on my recently-fractured foot yet. So, basically, any result which doesn't involve breaking bones will be fine with me.
Nick
Before the Classic Cliffs on 25th July, I'm off to the Peak District for a spot of training. Two weeks after the Classic CliffsI head back to Cornwall for a week to train with my friend who runs forScotland (that will hurt). And a week after that I'm off to the Alps torun arguably one of toughest races in the world! If someone had givenme this six-week schedule this time last year, I would have laughed.Now it all seems very real and very exciting – and a touch scary. If mybody holds out going these distances over some pretty big hills, I willcome out the other side pretty happy. And probably limping. This weekI've been obsessively studying the course and strategy for the Ultra Trail du Mont Blanc.I know the Alpine race will bring some pain and I wanted to know where.Turns out it's about 10K in, when you hit the first big mountain. Thisweek I've been doing mixed training: some strength stuff, some Fartlekrunning, some aggressive hill reps, and some easy runs and rides, mixedin with some squats, barefoot running and various running drills. I'mdoing everything I can to prepare for the Alps, but I'm not going asfar as Darren – he's eating salads for breakfast. While I admire hiscommitment, I just can't go there!
Thanks to Berghaus for supporting Team Men's Fitness.
For more Team Men's Fitness stories, subscribe to the magazine. We'll give you three issues for a £1!
Sign up for workout ideas, training advice, reviews of the latest gear and more.
Coach is a health and fitness title. This byline is used for posting sponsored content, book extracts and the like. It is also used as a placeholder for articles published a long time ago when the original author is unclear. You can find out more about this publication and find the contact details of the editorial team on the About Us page.