Team Men's Fitness Prepare For The Ultra Trail du Mont Blanc
With the Ultra Trail du Mont Blanc just a few weeks away, Team MF are gearing up for the Alpine test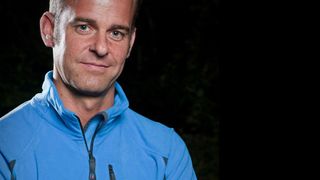 (Image credit: Unknown)
Nick
So I'm off to Cornwall again for the week – after the 92km Classic Cliffs, I just can't get enough of those hills! Fortunately I didn't suffer at all after that race – apart from the stomach problems on the journey home – and a rest helped me massively. I feel I have come back stronger. In the coming week in Cornwall I plan to do some sort of sport every hour of the waking day. With a choice of kayaking, surfing, swimming and running, it's an ideal holiday. It's all part of my five-week plan in the run-up to the Ultra Trail du Mont Blanc: a ten-day rest after the Cornwall race, followed by a really easy few days. Then anything and everything I fancy during the week's holiday, followed by a two-week taper before Mont Blanc. This is as technical as I get without feeling anal, but it's working so far – the resting has left me feeling phenomenal. The final thing to mention is after ripping the piss out of Darren about his salad-eating habits, this last week my digestive problems forced me to transform my diet temporarily. To my shock, I've been left with a love of home-made salads. They need a shedload of pasta with them, obviously, but they really do taste great!
Steve
Since my failure to finish the Classic Cliffs thanks to the foot injury, it's been a weird week. My overriding feeling is excitement for Nick and Darren now that they've both qualified for Mont Blanc. You can sense the anticipation in them too. What else could drive two grown men to start eating salad so religiously? As I've managed to demonstrate, there were no guarantees of even making it to that race in one piece. But they've done it, and regardless of the outcome that's a big achievement given we only took up ultra-running about nine months ago. As for me, I've started training again after a week's rest, and other than my feet feeling they belong to a 90-year-old man everything else seems to be all right. So now it's just a case of staying as fit as possible and waiting for the results of various X-rays and blood tests to find out the state of my bones. I'll be heading out to France with Nick and Darren to support them. In Nick's case I'm sure this will involve carrying several kilos of chocolate to various parts of the course for him. As for Darren he'll probably be asking me for leg massages, but luckily there are people out on the course who are paid to do that…
Darren
Last weekend I ran the Lakeland 50, a 24-hour 50-mile (80km) race through some of the Lake District's most picturesque spots. I needed to finish this race to compete in the Ultra Trail du Mont Blanc later this month, so there was a lot of pressure to complete it. We started at 12pm on Saturday and fortunately the weather had cleared following a very wet night. This race fields experienced ultra-runners and, looking across the start line, I could feel it was going to be a tough one. I was slightly nervous – but in my book that is a good thing because it keeps you on your toes. The first leg was fast, but I kept up with the front group and felt great. The winner last year finished in 12hr 3min and at Checkpoint 1, I was 20 minutes ahead of his split time. The next leg was where it all started going wrong. Easing up the first big climb, I suddenly felt very strange. I realised I had hit a wall, and stopped to shove some sugar and electrolyte down my throat. Satisfied I had fixed the issue, I cracked on. That's when it happened. For the first time in my running career, I got the most severe cramps in my legs. The pain was unbearable and I arched like a petrified cat, trying to stretch out the muscles. After 15 minutes I felt OK to continue, but for the following 15km or so I suffered more crippling moments. The next checkpoint offered an easy way out but I couldn't give up. I had to finish this race whatever happened. At this stage I didn't care if it took me 24 hours as long as I finished. Scoffing salty food to try to calm my leg spasms, I alternated between running and shuffling for the rest of the race, being careful not to over-extend and risk pulling already tight muscles. As it started raining and turned dark, I was glad to see on the map that I only had 10 miles to go. Wet and bruised, I stumbled down the last mile to Coniston with a big smile on my face and crossed the finish line in 12hr 38sec and 32nd place. Who knows what it would have been without the cramps. Oh well, I was just glad to finish. It was a bitch of a race but an excellent course. The organisation and support were very good and I highly recommend the challenge. Since then, I've successfully managed to do absolutely nothing. I needed the rest but with three weeks to go to the Ultra Trail du Mont Blanc, the trails are beckoning. No rest for an ultra-runner, I guess.
Sign up for workout ideas, training advice, reviews of the latest gear and more.
Nick Hutchings worked for Men's Fitness UK, which predated, and then shared a website with, Coach. Nick worked as digital editor from 2008 to 2011, head of content until 2014, and finally editor-in-chief until 2015.