Team Men's Fitness Jungle Marathon Blog
Team MF returned from the Jungle Marathon blistered and bruised, but proud of their achievements.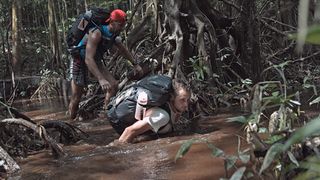 (Image credit: Unknown)
Nick Tidball
Would I do the Jungle Marathon again? Never, and I wouldn't recommend it to my worst enemy. But as a life experience I'll never, ever forget it.

In six days we had to cover 200km, but we were running over fire ants, through swamps and across sharp vines. It's like the jungle's hitting you – the backs of my legs got lacerated. On day three I started getting blisters, and I just couldn't keep them clean. By day four they were huge and I had to stop. I knew I couldn't run another 100km with my feet falling apart. It was a shame but I'm glad to be home, and glad to be alive.
Darren Roberts
The race is one of the hardest things I've ever done – it was relentless. Even though the mileage didn't seem too brutal, we also had to deal with administration [camping, eating and medical care] between stages. Thank God for the training weekend we did with Colin Towell.

On day three I hit a wall just like the ones I hit in the Namibia Desert Ultra and the Ultra Trail du Mont Blanc, and had to draw on every sinew and every bit of racing experience I had to nut it out. I got immersion foot from wading through swamps and ran the quickest 400m of my life past a hornet's nest. I ended up coming 11th.
Alex Bamford
I've lived in south-east Asia before so I had some jungle experience, but the first day was a shock. I was scared by how much fluid I was losing and feeling constantly sick. After that I levelled off, and on the fourth day I still managed to run for most of the day.

I came ninth overall, but following the race I didn't feel that great. I felt like I hadn't really achieved very much, I felt exhausted and questioned what it was all about. In the days that followed, what I had achieved began to make more sense and a warm feeling of satisfaction has been sinking in.
Sign up for workout ideas, training advice, reviews of the latest gear and more.
Nick Hutchings worked for Men's Fitness UK, which predated, and then shared a website with, Coach. Nick worked as digital editor from 2008 to 2011, head of content until 2014, and finally editor-in-chief until 2015.