Ryan Sheckler exclusive interview
The skateboarding icon tells MF why skaters need personal trainers and how he tames massive drops on his board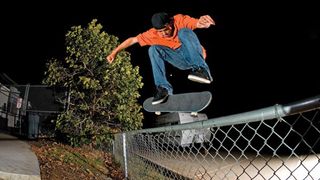 (Image credit: unknown)
MF: How important is fitness to skateboarding?
RS: Skateboarders are athletes and I don't think a lot of them realise that. I work out every week. I have a personal trainer and do a lot cycling, swimming, pull-ups and press-ups and general strength conditioning with him. My trainer works with a lot of the top motocross guy so he understands the needs of extreme sports athletes. Working out helps you develop the agility and nimbleness you need for skateboarding. Having a bit of muscle helps you get do tricks higher and deal with falls. If you look at someone like vert skateboard legend Danny Way, who jumped over the Great Wall of China, he's built like a tank and skates amazingly. In most cases, however, skateboarding and bodybuilding don't go hand-in-hand. I threw big weights around for a bit and got to 160lb [72.5kg] but felt too big and heavy on my board so I stopped.

MF: What does an average week of your off-board training involve?
RS: A 20-mile to 30-mile road bike ride on Monday, Wednesday and Friday. On off days I'll go running or swim for 20 minutes, or I'll skate for four to six hours a day. I have a gym at my house, which has dumb-bells, a bench, a lat pull-down machine and a medicine ball for abs– that's all I need really. I try to eat healthily but when you're on an international skate tour it's difficult to stick to a schedule. It's different when I'm on the US competition circuit – I take on a lot of carbs before events and protein afterwards to recover.

MF: The underground skate scene can be quite unforgiving of professionals going 'mainstream'. How do you think your MTV reality TV show Life Of Ryan has gone down?
RS: I think it's perceived as a corny teeny-bopper show but I don't really concern myself with what the industry thinks. I was doing it to look after myself and my family and if most people were offered the chance to do it they would have.


MF: How do you think skateboard tricks are evolving?
RS: Skateboarding is such a diverse and innovative sport and there's massive potential for trick development, much more so than in surfing or snowboarding, even though I think both sports are awesome.

MF: Are you planning a career outside of skating?
RS: I'll always be a skateboarder and it's what's got me everything I've have today but there are external opportunities it can afford you, such as acting and commercials. There's no reason not to take advantage of those.

MF: Do you think your talent at skateboarding could have been translatable to other sports?
RS: For sure. I think I could become a pro snowboarder or surfer if I stopped skating and concentrated all my energy on them.

MF: How do you prepare to jump down a huge drop?
RS: There can be loads of different things to account for – wind, lots of people around. When I get to a drop, I look at it, maybe say a prayer, then start committing to landing and riding away from it almost immediately.

MF: Who do you think is the most extreme man in the world?

RS: Danny Way on a skateboard. Travis Pastrana for all-round craziness.
Ryan Sheckler's Etnies signature skate shoe is available at Foot Locker stores across the nation.
For more extreme sports action, subscribe the magazine. We'll sort you out with three issues for £1!
Sign up for workout ideas, training advice, reviews of the latest gear and more.
Coach is a health and fitness title. This byline is used for posting sponsored content, book extracts and the like. It is also used as a placeholder for articles published a long time ago when the original author is unclear. You can find out more about this publication and find the contact details of the editorial team on the About Us page.