Exclusive Carl 'The Cobra' Froch interview
MF talks to the UK's WBC super-middleweight boxing champ Carl Froch about his title, his training and his love of the sport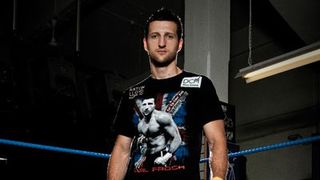 (Image credit: unknown)
What sort of training do you do?
Boxing is one of those sports that targets all areas: aerobic, anaerobic and your mental fitness too. I try to be a well-rounded athlete, almost like a triathlete, so I do long-distance running for stamina and endurance. I feel like I could do a marathon, although I wouldn't because it takes too much out of you – it drains your weight and your strength. Look at marathon runners – they're very skinny and weak, whereas 100m sprinters are strong, powerful, muscle-bound. For boxing you've got to be able to last for 12 three-minute rounds, which is 36 minutes of work at a high pace. You need the explosive power and anaerobic capacity to work for short-burst periods.
You provided a workout for Men's Fitness' October 2009 issue, comprising pull-ups, dips, press-ups and crunches. What did this workout target?
Pull-ups are a punching power movement. It's hard to train punch power, but they give you strength and a bit of endurance. The press-ups work the main muscles used when you're punching: your deltoids, triceps and back. I try to do quite a lot of reps because they also make you strong. It's important to do strengthening exercises that don't put weight on. Because I'm in a weight-governed sport I've got to weigh 168lb [76.2kg] the day before the fight. If I start doing static weight exercises, such as bench presses, or straps weights on when I do pull-ups or dips they're going to cause me to bulk up so I'd no longer be a super middleweight. It would slow me down too.
How do you get the ability to take punches?
Like punch power, some boxers just haven't got it – they can't take a shot. They get hit on it and get knocked out. I don't want to name people but if you follow boxing you'll know such people. Then you'll see people like Jean Pascal [whom Froch beat to take the WBC title] and me who can take punches and still keep coming. That's nature, not nurture.
How big a role does technique play?
You're either a good boxer or you're not – although you can train up to a certain level. But I've always been a good boxer – good at hitting people and not getting hit, making them miss. You can train people up but you can't just take any ten-year-old and train him to be a world champion. He might not have the natural tools to do it.
So which is more important, skill or technique?
If everything else in a match is equal skill and technique-wise, then it comes down to who's fitter and who has more heart and mental strength. That's how I could take Jermain Taylor to the trenches like I did [in defence of the title in April 2009]. He was slightly faster and more skilful for me but he couldn't get rid of me because I was too strong and too fit. I put the pressure on him and took it to him. My mental strength and toughness meant I could take it to him for the last four rounds. I was mentally drained but I still believed I was going to go forward and win. That's the code of the warrior, and most people won't understand it. There's no way I'm going to lose a fight on points. If I have an ounce of energy left in my tank I will drain myself physically and would rather be knocked out.
Both Pascal and Taylor took you to 12 rounds. How much do fights like those take out of your career?
They take a fair bit out of your career. It's almost as if you're a videogame character with a stamina bar and once it drains from taking shots, it doesn't fill back up. Fighters that are at the end of their career who've been knocked out a lot have a stamina bar that's always right on the reserve level. The Pascal fight was my hardest fight but it still wasn't that bad. I took a few shots but I was in control. In the Taylor fight I got put down in round three but it was a technical fight. We were picking each other off for two and a half minutes of the round, then he'd hit me with big shots at the end of each round. Towards the end of the fight I took him into the trenches guerilla-warfare style – that's what I like to do. When my opponents are tired and hurting and holding on, I like to hurt them.
Have you got more wars left in you?
Plenty more. I'm only just 32 and I've not taken that many punches. I've had one cut in my life. I broke my nose when I was a kid, but never boxing. I've got long arms and good movement around the ring, I don't stand in front of my opponents. Ricky Hatton is like a pub brawler – he'll take two or three shots to get one of his off – so every fight is hard and takes a lot out of your stamina bar. I like to keep out of the way and box. But I do like a scrap, which is what happened in my last two fights [against Pascal and Taylor]. They aged me boxing-wise more than my first 23 fights. But that's boxing. You can have one fight that finishes you. I think, for Taylor, that fight with me finished him. He'll fight again but the pasting he took in the last two rounds will be very difficult to come back from. [US middleweight Kelly] Pavlik [who beat Taylor in 2007] would have taken a lot out of him and now I've finished him off.
Now that you're a world champ, what keeps you motivated?
To become the best is just the start of the journey because after that it's about keeping the titles. I don't want to be world champ, defend it once or twice and then lose the belt. I want to dominate and retire undefeated. So the hard work starts now. It's taken me six years to get here and I want to spend the next four or five defending it. I'm going to become a legend, create my legacy and earn some proper money as well. I want to set myself up so I can look after myself and my family.
What do you think about boxers letting themselves go between fights?
It's not a wise move to let your body go through too many traumatic experiences, and by putting two or three stone on between fights and then losing it in two or three months you're traumatising your body. It messes with your metabolic rate and once you've got down to fighting weight again, you're weak and tired so you aren't able to perform.
Who's the greatest boxer of all time?
Roy Jones Jr and Sugar Ray Leonard are the kind of fighters I like – very skilful, fast hands. During their heyday they were dominant at their weight. Boxers have their time and when that's gone you have to face reality. Joe Calzaghe beat Jones Jr but Jones was 39 years old. He was at his best at 29, 30 years old, when he was the undisputed light-heavyweight world champion. You couldn't lay a glove on him, he was so fast, so skilful – he was one of the best fighters in the world for me.
Do you think fighting on so long past his prime will destroy Jones's legacy?
I think it has, which is a shame. When I think of all-time greats, I think of someone retiring undefeated. Calzaghe's done that and made a very good move. I've got respect for him, he's done well. He's a great fighter, fast hands, he's tough and he's beat everyone who's been put in front of him.
Is MMA a threat to boxing's popularity?
They're two very different sports. Boxing is very skilful because you can only use your hands, whereas with MMA you can go to the floor, kick, grapple, wrestle. I don't think an audience that would watch boxing would necessarily watch MMA. I don't see it as a threat – I think it helps boxing that there's another form of combat that's getting some public recognition, but I don't think it will overtake boxing because of boxing's history and because it's more entertaining to watch. Three or four minutes of grappling can be pretty boring if you don't know the intricacies of the sport. There are some really entertaining fights though. I like Anderson Silva. I've seen him get a couple of good KOs.
For more great fighting stories, subscribe the magazine. We'll give you three issues for £1 (opens in new tab). And check out this tough ttp://www.mensfitnessmagazine.co.uk/exercise/sports/2506/david_haye_boxing_workout.html" target="_blank">workout from British heavyweight David Haye (opens in new tab).
Sign up for workout ideas, training advice, reviews of the latest gear and more.
Coach is a health and fitness title. This byline is used for posting sponsored content, book extracts and the like. It is also used as a placeholder for articles published a long time ago when the original author is unclear. You can find out more about this publication and find the contact details of the editorial team on the About Us page.