Men's Fitness blog - 16/09/09
These clever shoes let you run barefoot without actually putting your bare feet on the ground. MF's Joel Snape tries them on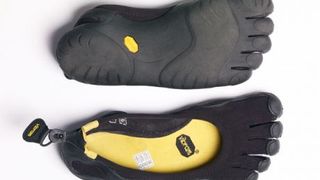 (Image credit: Unknown)
Recently I've been reading a lot about the benefits of barefoot running – how it strengthens your feet, improves your posture and so on – and decided I wanted to try it out. The problem is that it's hard to find a street in London that isn't strewn with broken glass or spattered with vomit. Also, my girlfriend doesn't really appreciate me putting my dirt-covered feet on the sofa.

The solution? A pair of Vibram FiveFingers. Originally invented as a barefoot alternative for sailors, these minimalist shoes have thin, flexible soles that are contoured to the shape of your feet, in contrast to the padded heels on most running shoes. In theory this allows you to adopt a more natural running gait, landing on your midfoot rather than your heel, and allows your toes to spread out to give you more lateral stability. I tried a pair of the Classics, which have the least padding and are the easiest to put on (Vibram advises you to wear the KSO (Keep Stuff Out) model or the Sprint if you're going splashing through rivers).

Most barefoot runners tell you to start slow, so even though I spend plenty of time without shoes on when I do jiu jitsu, I spent a couple of weeks walking around in my Vibrams before I tried running. In fact it took me that long to get used to putting them on quickly.

After that, I tried using them on a couple of weekend runs and was impressed. Normally I have to make a conscious effort not to heel-strike while I'm running, but with Vibrams I found my heels tended to protect themselves from bruising. I've yet to run more than three miles in them but my feet don't hurt, and they actually feel slightly more resistant to the sort of twisting and yanking that happens in martial arts lessons.
Oh, and for anyone with a girlfriend who's vocal about her disapproval of dirt – they're machine-washable. Trust me, that's important.
If you fancy a pair Vibram FiveFingers and want a ten per cent discount off some, go to the Pure website, pick your shoes, then enter CE74 in the voucher code field.
For more shoe reviews, subscribe to Men's Fitness. We'll give you three issues for £1.
Sign up for workout ideas, training advice, reviews of the latest gear and more.
Coach is a health and fitness title. This byline is used for posting sponsored content, book extracts and the like. It is also used as a placeholder for articles published a long time ago when the original author is unclear. You can find out more about this publication and find the contact details of the editorial team on the About Us page.