Men's Fitness fight news 12/01/10
Rashad Evans and Paul Daley take impressive victories at UFC 108, while boxing is hoisted by its own petard again.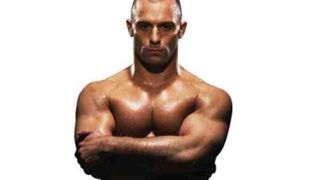 (Image credit: unknown)
For a card plagued with injuries and cancelled fights, UFC 108 managed to be one of the most exciting pay-per-view events yet, with only one of the televised fights – Rashad Evans vs Thiago Silva – going to a decision.

Evans hasn't used his wrestling skills for a while, but came out with some impressive takedowns – exactly the same strategy that his training partner Georges St-Pierre used following his first knockout loss. It'll be interesting to see if he can make it work against Quinton 'Rampage' Jackson, who will have finished filming the A-Team movie in time for them to fight in May.

Knockout of the night on the same card came from Britain's own Paul Daley, who put submission wizard Dustin Hazelett to sleep with a crunching left hook and some vicious ground and pound. Daley has said he'd like to fight fellow Muay Thai standout Thiago Alves next, but UFC boss Dana White claims that a meeting with Josh Koscheck is more likely – which will test Daley's takedown defence and ground game.

White's also been flirting with ex-cruiserweight and middleweight boxing champ James Toney, who claims that he wants to step in the Octagon for a fight. 'He's tough as nails. He's mean. He's nasty.' White told reporters. But does he know anything about MMA? 'Yeah, front kick, back kick, side check kick, all that…' is Toney's response. Hmm.
Elsewhere in the fighting world, things are less exciting, with the planned Manny Pacquiao vs Floyd Mayweather Jr superfight finally off, following weeks of negotiations about drug tests.

On a completely different but more entertaining note, this week we've stuck our hands up the internet's skirt in search of the best MMA put downs. Here you go:

Dan Hardy on Josh Koscheck
'The thing I've realized about Josh Koscheck is that he's kind of like a turd that won't flush away. He kind of wins a fight, and you think he's doing all right. Then he loses a fight and you think he's done, and then he wins a fight. He's always kind of floating around and he never really does anything.'

Jake Shields on Frank Shamrock
'He's a creepy looking 50-something-year-old man, with a flat nose, and some 13-year-old kid's braces on his teeth, trying to always talk himself up so people think he is still relevant. How about it, Frank? If we fought I would come up to your weight and I would give you my entire purse if you could even make it to a decision against me. Then you could buy all the stability balls in San Jose to grapple against every day for the rest of your life, you dick.'


Marcus Davis on Dan Hardy
'"Hate" is a very powerful word, I know. It gets thrown around a lot when people don't really mean it, like, "Aw, I hate mustard!" or, "Aw, I hate this song". But I hate Dan Hardy.'

Rampage Jackson on Chuck Liddell
'Chuck said in his pre-fight interview it's gonna be a first round knockout. If he plans on getting knocked out in the first round that's his business.'

Dana White on Tito Ortiz
'There's a billboard of his big ugly gorilla face at the busiest point in Las Vegas, where it can scare kids who are riding by in their cars.'

Matt Lindland on Lee Murray
'What is this, a circus? Are you a fucking monkey? You want some peanuts, monkey-boy? Are you a clown?'


Murray on Lindland
'I'll smack you up, you ugly pussy, and send you back to America.'

Matt Serra on Matt Hughes
'I think this is definitely the biggest fight of my career. Not that I want to give this guy a compliment, but he's a future hall-of-famer in the fight game.'

Matt Hughes on Matt Serra
'Let me go on the record – I can't stand him. I don't like him. There's a lot of pride on the line here.'

Josh Koscheck on Diego Sanchez
'That just tells you the type of person he [Sanchez] is, that he wouldn't take the time out of his day to fuckin' do an interview for his home fuckin' state. That's pretty pathetic. So that tells you and it tells the fans that he's a real cocksucker and he has no respect for his fans, and no respect for people like yourself. Yeah, that's the way I look at it. You could even put that right in the fuckin' interview. I would appreciate it if you would put that in the interview.'


Matt Serra on Frank Trigg
'He just has one of those faces that you want to punch. I refuse to lose to a guy that has a fucking tramp stamp. You've seen his back, right? C'mon. No way am I losing to a guy that walks around with that.'

Donald 'Cowboy' Cerrone on Jamie Varner
'When I see him I'm going to punch him in his mouth.'

Matt Serra on Georges St-Pierre
'Drink your red wine, Frenchy, go to your hockey game and shut up.'
For more MMA and boxing stories, subscribe to the magazine. We'll give you five issues for £5.
Sign up for workout ideas, training advice, reviews of the latest gear and more.
Coach is a health and fitness title. This byline is used for posting sponsored content, book extracts and the like. It is also used as a placeholder for articles published a long time ago when the original author is unclear. You can find out more about this publication and find the contact details of the editorial team on the About Us page.