Exclusive Terje Haakonsen interview
Terje Haakonsen is the most influential snowboarder of all time. Here's what's going on inside his head.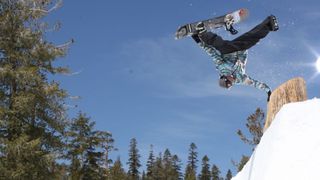 (Image credit: unknown)
Widely regarded as the greatest snowboarder of all time, Terje Haakonsen, 36, from Vinje, Norway, dominated halfpipe contests throughout the 1990s. Then, in 2007 – when we thought he was past it – he achieved the world record for the highest air with a massive 9.8m backside 360˚ during a qualifying round of his own event The Arctic Challenge. Thanks to his boycotting of the 1998 Winter Olympics - to the dismay of his home country Norway - he's also one of the sport's most controversial figures, too. MF talks to the living legend.
How has getting older affected your riding?
It takes longer to recover from injury, but I feel I'm in better shape now than I was in my mid-20s. Mentally, I have also got a little better. Today, jumps are bigger and the sport's more extreme, so it's good to be mentally prepared. As I get older I need to be a more active to maintain the physical and mental edge needed to go big.

As you go into your late 30s have you had any thoughts about retiring?
[Laughs] I'm not sure what to say - I feel like I'm already taking it pretty easy on the pro scene. But I'm still hungry for good trips and to develop my riding.

Shaun White performed a Tomahawk - a 1260° double flip - to win gold in the Vancouver Olympics. Does that mean riders will now have to pull life-threatening tricks to win big comps?
Today's formats get a lot of people hurt – riders feel they to throw down some crazy tricks to do well. Pipe riding has so much more to show in terms of style and the joy of riding.

You have had a relatively injury-free career. How do you account for that?
Well, a lot of my friends call me chicken and tell me I haven't pushed myself hard enough. I've still got a few more years to prove them wrong and show that I'm not a pussy!

Describe the sensation of pulling a 10metre air off 9-metre quarterpipe?
It's like being on a roller coaster – you shooot up, feel weightless for a short moment, then drop like a stone.

You've often been compared to a cat because you always land on your feet. Is this a natural talent or something we are able to develop?
I think I've been blessed with natural talent, but what you do and who you hang with in your childhood contributes. I did a lot of different sports with guys older than me and I watched lot of Jackie Chan and Bruce Lee movies.

You boycotted the 1998 Winter Olympics at the peak of your career. Why? Has your stance changed since?
No, my feelings have become stronger. Since this question has been posed to me so often, I've really given it a lot of thought. Olympic snowboarding is still run by a ski federation (FIS) and I will not accept that. I think it should be run and created by snowboarders. The Olympics' most amazing achievement is to have created the most exposed snowboard event in the world without having any effect on snowboarding culture or its finances. In the 12 years since snowboarding first appeared at the Olympics, videos, magazines and independent contests are still the main drivers of our culture and sport. Look at the FIS snowboard World Cup. Nobody bothers with it except for years they have to qualify for the Olympics, which is the strongest statement the riders can make about the FIS. Snowboarding is good for the Olympics, and the Olympics is good for the podium winners. Competitive riders want to win the most exposed contest in the world, I respect that, but in my mind it could be so much better if it was run by those who care more about snowboarding. If the IOC had any true respect or interest for the sport, they wouldn't have invited a ski federation to run a snowboarding event. It's going to be interesting to see the upcoming BBC documentary on the IOC called 'Sports Behind Closed Doors'. Apparently it's all about how they control and manipulate everything for their own benefit.
For more controversial extreme sports interviews, as well as workouts and trick tips, subcribe to Men's Fitness. We'll give you five issues for £5.
Sign up for workout ideas, training advice, reviews of the latest gear and more.
Coach is a health and fitness title. This byline is used for posting sponsored content, book extracts and the like. It is also used as a placeholder for articles published a long time ago when the original author is unclear. You can find out more about this publication and find the contact details of the editorial team on the About Us page.