MF prepares for an amateur MMA fight, week 2
This week Joel's training involved getting punched in the stomach, followed by endless sit-ups.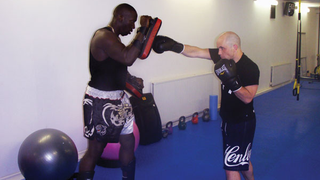 (Image credit: Unknown)
As I'm getting closer to my amateur MMA fight at SENI, I thought it was about time to improve my mediocre striking skills. As I mentioned last week, my grappling's fine, but every time I watch an Anderson Silva fight I have recurring nightmares about getting kicked in the legs or kneed in the ribs until I can't stand up any more. That's why I arranged to have a one-on-one session with Daniel Sam, the UK's leading heavyweight Muay Thai fighter, who'll be fighting at SENI on the same day as me.

My first mistake was to accidentally pick up a weighted rope when Daniel told me to warm up with some skipping. It turned out that 'warming up' meant three rounds of hopping backwards, forwards and sideways while twirling the rope, occasionally sprinting in ten-second bursts and doing as many burpees, press-ups and squats as possible between rounds.
My shoulders were ruined, but thankfully they got a tiny rest when we moved on to shadow-boxing. For the first round, Sam wanted me to focus on footwork and defence, moving around and practising lifting my legs up to block imaginary kicks. The second round included throwing offensive moves, and then it was straight onto the real thing – hammering the pads while Sam moved around calling out combinations. When I didn't react fast enough or hit hard enough, Sam would throw back – and even though he was probably only going at a fraction of his normal speed, the shots to the ribs hurt.
After four rounds on the pads we did some work on my kicking technique – I don't turn my hip over enough, apparently – before finally doing a couple of rounds of speed drills where we'd alternately throw and then block the same combination as fast as possible. After that, plus a mere 20 reps each of crunches, V-sits, bicycles, sit-ups, leg lowers and five other abs moves I don't even know the names for, it was all over bar the stretching.
The whole thing took an hour and a half, and Sam does this routine five times a week – as well as going for a few ten-mile runs and doing, on average, 50 rounds of sparring. It's a tough life being a pro fighter – I'm glad my amateur career's going to be over in a couple of weeks…

Men's Fitness will be at SENI all weekend on the 29th-30th of May. For more on Daniel Sam, check out londonmuaythai.com
Enter our competition to win VIP tickets to SENI here.
Sign up for workout ideas, training advice, reviews of the latest gear and more.
Coach is a health and fitness title. This byline is used for posting sponsored content, book extracts and the like. It is also used as a placeholder for articles published a long time ago when the original author is unclear. You can find out more about this publication and find the contact details of the editorial team on the About Us page.