MF prepares for an amateur MMA fight, week 4
It's nearly time for Joel's fight, and the only thing left to do is eat properly.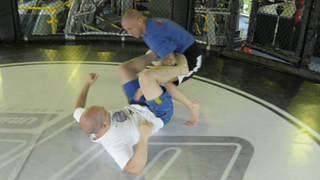 (Image credit: Unknown)
If you're one of those people who trains year-round without a break, I'd wholeheartedly advise you to pick an event to train for. With the hard training for my amateur MMA fight done, I've spent most of this week doing some gentle grappling and padwork, and as a result of the rest I've got so much energy I'm bouncing off the walls. It's a nice contrast to my usual state, which is juggling a load of niggling injuries and always being tired for training.

The only tough bit is my diet: I'm fighting at 77kg, which is a good couple of kilos less than I weigh when I'm eating what I want. Since weigh-ins aren't long before the fight – and I'm not an American wrestler who's prepared to sit in the sauna wrapped in bin bags – I needed to lose the weight naturally rather than simply dehydrating myself. Thankfully, since I was training hard already, shifts in lifestyle weren't that drastic – I just stopped drinking beer, eating biscuits in the office, and having peanut butter on toast for supper. Apart from my breakfast porridge, I also focused on making my meals a blend of protein and vegetables – the veg is good for me, and the body actually works harder to deal with protein than it does with carbs, so it burns off protein-heavy meals faster.

Weirdly, I never feel hungry – stuffing yourself with enough spinach and broccoli to make up your daily calories fills you up a lot faster than a bagel. My abs are finally starting to emerge, and a quick grapple with Ultimate Fighter winner Ross Pearson on Wednesday has convinced me that I'm as ready as I'll ever be. Just the weigh-in and fights to go. And then the enormous victory pizza, natch.
For workouts from the biggest stars of MMA, subscribe to the magazine. We'll give you five issues for £5.
Sign up for workout ideas, training advice, reviews of the latest gear and more.
Coach is a health and fitness title. This byline is used for posting sponsored content, book extracts and the like. It is also used as a placeholder for articles published a long time ago when the original author is unclear. You can find out more about this publication and find the contact details of the editorial team on the About Us page.