Conrad Williams
MF catches up with one of the UK's brightest 400m prospects.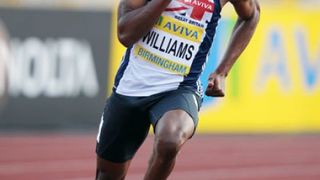 (Image credit: Unknown)
UK 400m runner Conrad Williams tells MF about racing Usain Bolt, deadlifting his way to the 2010 Commonwealth Games and how athletics new false start rules will make him an even harder man to beat.

What are your aims for the season?
I want to qualify for the individual 400m at the 2010 European Athletics Championships and the 2010 Commonwealth Games. I'll be competing at the Aviva UK Athletics events, such as European Trials at Birmingham and the Grand Prix at Gateshead, because the world's best 400m runners will be there. These events will give me a good idea of where I am in the 400m global pecking order and what I need to do to improve.
How do you train for 400m?
400m runners need a higher power-to-weight ratio than a lot of runners – we need to be skinny but strong and explosive. Sprinters have to do a lot of bulk-building aimed at getting their muscles to fire fast, but they don't need so much strength and speed endurance because they don't need to carry their weight so far. I do Olympic lifts, such as deadlifts, snatches, bench presses and clean and jerks, to build the strength I need. During my heavy training my max bench is 115kg, 180kg for squats, 95kg for the clean and jerks and 170kg for the deadlifts. Track work from 50m to 600m is also crucial to help you build power and endurance for 400m. In heavy training I'll normally do two to three hours of training a day – that includes a warm-up, track or strength work, recovery and a warm-down.

What other gym work do you do to improve performance?
Lot of plyometric exercises, such as bounding, hurdling and box jumps. These build up your explosive reaction speed and elastic power in your legs and your back, making you stronger, more stable and able to get off the blocks quicker.
How does your training differ for the indoor and outdoor events?
At outdoor events you run one longer lap, indoor you run two shorter ones. The weather can have a big effect on your outdoor performance – you need to be able to generate speed in windy or rainy conditions so you need lots of power. When racing indoors you need to focus on building strength and speed endurance to keep a consistent pace during each lap.

Are you concerned about the new false start rules in track events (immediate disqualification after one false start)?
No, it helps me because I'm not one of the best starters – I get stronger as the race goes on. The faster starters will now have to come out of the blocks more cautiously to make sure they don't get disqualified, which takes away their advantage.
How would you feel about coming up against Usain Bolt in the 400m?
I'd be excited to because even though Bolt runs the odd 400m race, it's my event. I wouldn't worry about him because I could only control what happens in my lane. If I was racing him in the 100m, however… 'See ya, Conrad!'

Conrad Williams is sponsored by Mitchum anti-perspirant and deodorant. If you'd like to win a place on one Mitchum's Training Masterclasses, during which you'll get the chance to train with some of the UK's top athletes, click hereclick here
Sign up for workout ideas, training advice, reviews of the latest gear and more.
Coach is a health and fitness title. This byline is used for posting sponsored content, book extracts and the like. It is also used as a placeholder for articles published a long time ago when the original author is unclear. You can find out more about this publication and find the contact details of the editorial team on the About Us page.