Will Clarke's triathlon gym conditioning workout
If you want to perform more like Will Clarke, do his triathlon strength conditioning workout.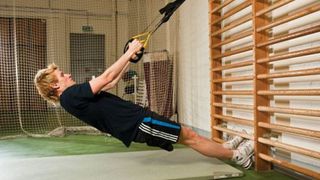 (Image credit: unknown)
Follow Will Clarke's workout to get the total body strength that will help you achieve a triathlon PB. Once you've watched the video guide, check out this nice little interview we did with him for the August 2010 issue of Men's Fitness:
How is training going?
I'm feeling better than ever. I've cut out the mad weeks – I used to be a big trainer but I found if I did 35 hours one week, I'd do 28 the next then 15 after that because I was so knackered. Now I'm more consistent. I've only gone over 30 hours a week a couple of times this year.

What races are you looking forward to this year?
The London leg of the world championships in Hyde Park [in July]. That's a good one to do well in and get confidence up for the Olympics, because that's where the race is going to be held in 2012.

What do you want to achieve this year?
I want to win the world championships – or at least get close. I'd be disappointed if I didn't get top five.

How do you feel during the latter stages of a race?
It screws with your mind. Everyone is trying to attack you and everyone is hurting as much as each other. It's about who wants it most.

What's the toughest part of a race?
The last 3km of a run is when it gets very tough and everyone is starting to think seriously about the win.

How is the competition among the British triathletes at the moment?
It's very good. To be honest, it's too good! We've got the Brownlee brothers, Alistair and Jonathan – Alistair was world champion last year. He's extremely hard to beat and everyone's scratching their heads wondering how he's doing it.

Can you beat him?
I hope so. I think the only way to do it is to run faster and be the strongest at the end of the race.

Is it too early to think about the London Olympics?
Not really. But it's also not a good thing to win the world championships in the first year of an Olympic cycle [as Alistair Brownlee did] because all eyes are on you. It's better to come out and surprise everyone with an amazing sprint finish or a crazy attack on the bike.

What is your Olympic goal?
Everyone in the team is going for a medal, including me. Preferably, it'll be a gold.
Looking for a triathlon to enter? Then sign up to the Men's Fitness Tough Tracks triathlon. For more great triathlon workouts and tips, subscribe to Men's Fitness.
Sign up for workout ideas, training advice, reviews of the latest gear and more.
Coach is a health and fitness title. This byline is used for posting sponsored content, book extracts and the like. It is also used as a placeholder for articles published a long time ago when the original author is unclear. You can find out more about this publication and find the contact details of the editorial team on the About Us page.