Russell Winter surf interview
35-year-old Winter is the UK's most successful surfer. Here he spills the beans on his career highlights and how to improve your riding.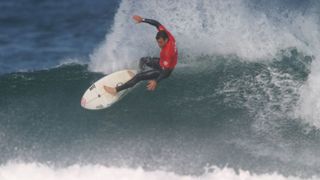 (Image credit: unknown)
MF Arguably your two greatest achievements are winning the O'Neill Coldwater Classic in Thurso, Scotland (the UK's most prestigious international surfing event) in 2006, and having beaten the world's best surfer Kelly Slater in a competition at Sunset Beach, Hawaii. Which means more to you?
RW It's got to be winning the Coldwater Classic. The waves were absolutely perfect and I managed to score a 10 point ride (the best competition score you can get) in the final. Plus the trophy was a really cool Braveheart-style sword.

MF Where are some of the most unlikely places you've had great sessions in the UK?
RW Scotland and a secret spot near Bude in Devon, which me and a friend found using a jet ski, then surfed all day by ourselves. I can't tell you where exactly because it'll get packed out!


MF What's your definition of too big to go out in?
RW There's no such thing.

MF Are you still as focused on competing or has your surf agenda changed as you've got older?
RW I still enter events because I'm super competitive but I'm not riding on the World Circuit anymore. I've done it for 16 years and the travelling gets a bit much in the end. I'm doing a lot more coaching now.

MF What technique or surf skill did you most struggle with when you were learning to surf? How did you overcome your difficulties?
RW Probably tube riding because we don't have many barreling waves in this country. I had to travel abroad to find them.


MF When is the best time of year to surf in the UK?
RW Spring and autumn because the UK gets really strong swells.

MF What tips have you got for increasing paddle speed and power?
RW Since you're effectively swimming when you paddle, laps in your local pool will help you build the specific shoulder and arm strength you need. Using resistance bands to emulate paddle strokes can also help, plus it means you don't have to find a gym every time you want to train.

Russell Winter will be competing at this year's Relentless Boardmasters, which is taking place in Newquay, Cornwall, from the 4th - 8th August. For more information, go to www.relentlessboardmasters.com (opens in new tab)
Check out this pre-surf workout from top euro ripper Romain Cloitre (opens in new tab).
Sign up for workout ideas, training advice, reviews of the latest gear and more.
Nick Hutchings worked for Men's Fitness UK, which predated, and then shared a website with, Coach. Nick worked as digital editor from 2008 to 2011, head of content until 2014, and finally editor-in-chief until 2015.