MF takes on the Nokia Thames Swim
MF's James Burnay joins hundreds of other swimmers in a race along England's greatest river.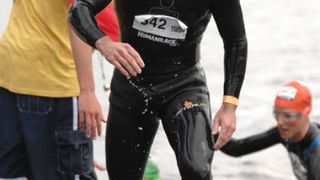 (Image credit: Unknown)
It took some serious organisation to get 1,000 people into the Thames for the start of the Nokia Thames Swim, but fortunately this event proved so smoothly run that there were no problems apart from a bit of splashing. The race started near Hampton Court Palace, with hundreds of us in the water preparing to strike out for Kingston-upon-Thames, 3.6km downstream. In case 'downstream' makes it sound easy, I was informed beforehand that the speed of the current was only eight metres an hour.
Even if the river wouldn't oblige by doing all the hard work for me, the water was a pleasant 22˚C and visibility was excellent. I've done a few triathlons with an open water swim and usually found that the field stretches out quickly – this race was no different. My strategy was to keep in the middle, letting the good swimmers - including Olympic medallist Keri-Anne Payne, who was swimming but not technically racing - go on their way but staying ahead of the slowcoaches who looked like they'd take longer than me. This successfully kept me out of the way of any flying arms at the start.
Obeying instructions, I stayed on the left-hand side of the river within easy reach of the bank - in fact I occasionally found myself touching the river bed with my hands. It was hugely enjoyable to swim along the great waterway, with the leafy scenery of Surrey and southwest London slipping past. The only thing I regret was not wearing a watch because, with the exception of a halfway buoy, there were no distance markers so I had no way of knowing how far I'd come. I had worn one at the previous weekend's Dextro London Triathlon (opens in new tab) and found that being able to see the time gave me a rough but useful indication of my progress.

I finished in 1hr 21min, which I felt pretty pleased with until I learned that out of 933 finishers I came 702nd. I can't believe so many hundreds finished ahead of me. I obviously need to do some speed drills before my next open water swim.
For more tales of fitness daring-do, subscribe to the magazine. We'll give you five issues for £5 (opens in new tab).
Sign up for workout ideas, training advice, reviews of the latest gear and more.