Sir Chris Bonington speaks to MF
Climbing legend Sir Chris Bonington talks to MF about literature, Leo Houlding and the traffic jams on Everest.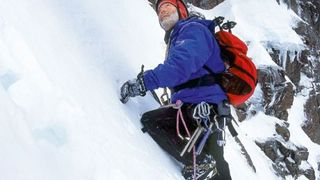 (Image credit: Unknown)
…his favourite climbing books
I wasn't really interested in the Himalayan books when I grew up – it seemed totally unattainable. My inspiration growing up was a book called Mountaineering In Scotland by WH Murray. He was a bank manager and he'd done a terrific amount of pioneering climbing in Scotland. He wrote the book on lavatory paper while he was in a POW camp. Later, I had two climbing bibles: The White Spider by Heinrich Harrer and Nanga Parbat Pilgrimage by Hermann Buhl.

…modern climbers
I feel an immense empathy with Leo Houlding. He's doing what I did – climbing at the cutting edge of the best parts of the sport, and he's making a living out of it. The climb he did on Asgard (opens in new tab) was real climbing. The challenge was to make a really good film of it, so they'd do the pitches, put the fixed ropes up so the cameraman could get up, then come back and do it perfectly again. And they've made a wonderful film.
…leading expeditions
Climbing is about leading. In the first attempt I led on Everest we failed but learned a hell of a lot, and in the second attempt we succeeded. When you're the leader of a big expedition your job isn't to get to the top; your job is to make the expedition successful. I'd put myself in the third team and things were going wrong on the mountain, so I dropped back to see what the problems were. That's the leader's job.

…how climbing has changed
I think two things have happened. One is that there's no place for the large siege-style expeditions [relying on fixed ropes up the mountain]. People started to see that you could climb very hard routes alpine-style [carrying minimal kit] with total commitment, so now climbers are climbing in very small groups, where they haven't got that level of self-sacrifice that siege-style climbing demands. I think that our culture has become much more individualistic, and people want to do things for fame or their own satisfaction. It would be very difficult to put together a team from this country to do a big team effort – it's just not appropriate any longer. The brilliant climbers are off doing their own thing. Some of them, such as Leo and Nick Fowler, are among the best climbers in the world, and they're doing alpine ascents on peaks that the media and general public have never heard of. They're getting into the climbing press, but not anywhere else.
…Everest now
It's pretty crowded these days, but that's a natural progression. You can't be elitist about it. Every one of those individuals, some of them relatively inexperienced, who plod up that endless rope towards the top has made a tremendous personal achievement. If you want to have piece and quiet, it's dead easy: go somewhere else. There are hundreds of unclimbed peaks in the Himalayas. Everest has become sort of a honeypot, but it's allowed a lot of people to fulfil a dream.

Read the rest of the interview with Sir Chris Bonington in the October issue of Men's Fitness, on sale 25th August. You can subscribe to the mag here (opens in new tab).
Sign up for workout ideas, training advice, reviews of the latest gear and more.
From 2008 to 2018, Joel worked for Men's Fitness, which predated, and then shared a website with, Coach. Though he spent years running the hills of Bath, he's since ditched his trainers for a succession of Converse high-tops, since they're better suited to his love of pulling vans, lifting cars, and hefting logs in a succession of strongman competitions.