MF talks to boxer James DeGale
The unbeaten super middleweight is fighting Carl Dilks on 18th Sept. We caught up with him before the bout.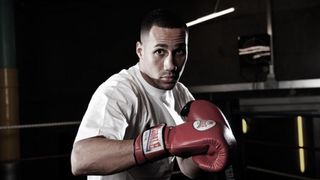 (Image credit: unknown)
You're set to fight Carl Dilks in September, and he's already said that you won't have to chase him around the ring. Do you think he's going to be a good showcase for your style of boxing?
Yeah, I think he's a good style for me - he comes forward and he throws punches. A lot of guys I've fought have been a bit negative, and I've had to make them fight, make them open up. I think he'll let me show what I can do, and I'd like to beat him convincingly.

Nobody's taken you past the fifth round yet. Do you think he can test you more than any of your previous opponents?
I've been watching DVDs of him and he's good, he's got some moves. I think he's tough enough to give me a hard couple of rounds, but I'll be disappointed if I don't knock him out, or at least batter him for ten rounds. There's different levels in boxing, and I'm a level above him.

You've been pretty vocal about wanting to fight Paul Smith in the past. Is that still a fight you're interested in?
I know Paul - I'm friends with his brother - but he's got something that I want: the title. If he doesn't vacate, that's a fight that might have to happen. Boxing's a business, and we can shake hands and make up afterwards.


You must have been watching the Super Six tournament, the series organised to produce WBA and WBC super middleweight world champions, with interest. Do you think that's a good way for boxing to go in the future?
Yeah, it's been a great tournament. Like I say, boxing's a business, and people want to see big fights. I think [current WBA champ] Andre Ward's looked really good so far - he moves his feet well, and he can dig deep when he needs to. Hopefully I can fight the winner somewhere down the line.

Who are your boxing heroes?
I like punchers and technicians. I love Muhammad Ali, Sugar Ray Leonard, and guys like Pernell Whitaker and Thomas Hearns. In terms of my own career, if I could achieve anything near what Floyd Mayweather's accomplished, I'll be a very happy man.


James Toney's fighting Randy Couture in the UFC soon. What do you think of his chances?
I like James Toney, he's a fantastic boxer, but he's gone up in weight since he left boxing - he's looking a bit flabby now. And the guy he's fighting is a legend, right? I don't know, man, I'm looking forward to seeing it.

James DeGale MBE uses Lonsdale apparel and equipment, celebrating 50 years of Lonsdale. DeGale's fight against Carl Dilks is set for 18th September at the LG Arena, Birmingham.
For more revealing interviews with top sports stars, subscribe to Men's Fitness. We'll hook you up with five issues for £5 (opens in new tab).
Sign up for workout ideas, training advice, reviews of the latest gear and more.
From 2008 to 2018, Joel worked for Men's Fitness, which predated, and then shared a website with, Coach. Though he spent years running the hills of Bath, he's since ditched his trainers for a succession of Converse high-tops, since they're better suited to his love of pulling vans, lifting cars, and hefting logs in a succession of strongman competitions.