MF's London to Barcelona cycle
MF's Damien Gabet cycles 1,800km to Catalonia for an encounter with some furious, snorting beasts (and that was just the women).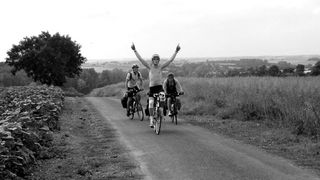 (Image credit: Unknown)
The only way to stop the shooting pains in the back of my legs is to kneel down. The dense crowd gives me a chance to hide for a moment. I try to convince my adrenal gland to calm itself and my heart to stop beating so rapidly. In four minutes, twelve blood-thirsty bulls will shred through this strip of cobbles I'm trapped on, while thousands of thrill seekers will try to get out of the way. A successful run is possible, but I've cycled 800 miles to be here and I'm shattered.

I go on holiday with the same group every year and this year we wanted a challenge. 'How about cycling to Barcelona?' one of us suggests. 'We could go to Pamplona on the way and do that bull thing.' And so it was decided: we'd raise money for Concern Universal, a charity working to fight poverty, by participating in a cycle ride to Catalonia.

Six months later, I'm wearing padded Spandex. Pedalling my bike off a ferry into France, I watch the sun rising. I've been given the captain's armband for the day. This isn't because the team trust me as a strong leader, but because they want a guinea pig – a sentiment openly discussed. Within an hour our group split into three pairs. The middle couple were now going the wrong way up a newly built motorway. With our phones already sapped, we had the fortune to see them from the bridge they should have been on.

I decided we should chase them; three minutes later we were arrested. The displeased policemen escorted us to the next available exit. At the roadside we were made to hand over cash until they said stop. Meanwhile, the pair we tried to save were invited to eat with locals on a nearby farm. Somehow, we all made it to Le Mans.
We were somewhere coastal, south of Bordeaux, when I made a decision that affected the next 24 hours. Taking a wrong turn meant a 40km detour through the lush but monotonous pine tree plains. All I had to eat was a cured sausage left over from a previous meal, so I ate it as we rode. At 11pm we were lost so we dined at the only building with a light on. We pleaded with the landlord to sleep in his garden. He obliged. Only I didn't sleep – the sausage left me with a dodgy stomach. Morning came and it was time to leave, but cramping left me the worse for wear. They went ahead, leaving me ailing in the restaurant owner's garden. Eventually I caught up in Biarritz.

It was shortly after our one-day break in Biarritz that we began to suffer our first injuries. Stopping was a bad idea. To boot, the further south we went the more the heat became an issue. As we neared the border an electronic pharmacy sign read 42˚C. One of us looked particularly feeble and said he couldn't see straight. It was suggested he wear his helmet. Seconds later we were reviving him after he fainted. Once things came back into focus, he was ready to continue and we got back on track.

Our first stop over the border was in Basque country, San Sebastian. It was where we watched Spain beat the Netherlands in the World Cup final. Our schedule got us there just in time to enjoy the one night in history that Basques accepted Spanish unification. Our mandatory exercise meant the first sniff of alcohol got us hammered. Supporting Spain was easy.

We arrived a day early in Pamplona but some of us weren't allowed to run. We had the wrong shoes. Safety first; I understood. The next day, properly shod, we took to the runway. At 8am the thunder of a firework rang through the town. Release the bulls. Most of the crowd surged, but I wanted to see a bull before I ran. Then I'd know what to do. Our group was split immediately. From a standstill I went to a full sprint, hurdling and checking bodies to stay mobile, upright and away from the bulls. They passed, and I hadn't been hit. The priority now changed: get to the bullfighting arena before the gates were closed.
The rush was more acute than when I jumped from an aeroplane last year. At least with that there is logic: pull cord, live. With the run it's nearly all down to chance. And this is precisely why it's incredible. The T-shirt I wore that day had to be thrown away as it was covered in someone else's blood. Inimitable, but unrepeatable.

The final four days to Barcelona were the hottest, and therefore, hardest rides. Fluids were going down a litre an hour and our High Five hydration supplements kept us going. Now down to three men – our party halved – we, and our bikes, were breaking down. Our bodies ached from the heat. On a particularly difficult day, one of our team described the landscape as massive, yellow and shit. Seconds after the comment, he misjudged a hairpin and crashed off a cliff. Spain had feelings too. A well placed thicket saved him from a serious injury.

The finish line, when it came, was Gaudi's iconic Sagrada Família cathedral. The other three had got there earlier by train and prepared a ceremony – police tape to crack through and sparkling wine to celebrate. Finishing something like this felt odd and euphoria gave way to a craving for more. Not for bikes or for bulls, but a shared sense of achievement and experience. We did what we said we'd do, and loved every minute.
For more Bulls and Bikes team tales, go to bullsandbikes.com (opens in new tab). If you want info on High5 nutrition go to highfive.co.uk (opens in new tab) and for more about the Concern Universal, the charity Gabet rose money for on this trip, check out concernuniversal.org (opens in new tab).
Sign up for workout ideas, training advice, reviews of the latest gear and more.