Adventure holidays on a budget
MF's experts show you how to have the adventure of a lifetime on a tight budget by heading off the beaten track.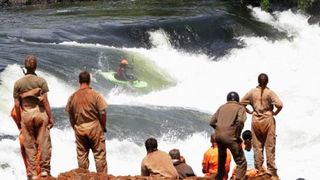 (Image credit: Unknown)
Raft in Uganda
Grade five rapids and safaris on a shoestring. 'Jinja, in Uganda, is the thrill capital of Africa,' says Tom Evans. 'It's near the source of the Nile and offers white-water rafting up to grade five, which is hard to find in most countries, all in beautiful surroundings with great weather. Your best bet's a two-day rafting excursion, which gives you access to more out-of-the-way rapids and lets you spend a night on the banks of the Nile. While you're there, you can also try mountain or quad biking. Another option is Murchison Falls, where a camping safari is much cheaper than you'd manage in Kenya or Tanzania. You might even see tanks, since it's so close to the border of the Democratic Republic of Congo.'

Typical deals
Flights to Uganda's capital Kampala typically cost around £400, with shared minibuses to Jinja the cheapest option from there. Set off in the morning, because rush hour can add two hours to your journey. If you book ahead, two days of river rafting will cost around £150. If you're prepared to try haggling when you arrive, you should be able to cut that figure in half.
Other low-budget thrills
'Fully outfitted white-water rafting trips are available at less than £30 a day in Nepal,' says Tim Leffel.

Trek in Nepal
Deal directly with the locals and you could explore the Himalayas without paying sky-high fees. 'You can easily avoid the large fees of big Himalayas trekking companies,' says Tom Evans. 'Just turn up in Kathmandu and find your own personal guide and sherpas for a much lower price. Camping will reduce prices even further, but it can get cold and the tea houses and hostels are pretty good. Kathmandu is also worth looking around for a few days, thanks to its vibrant night life.' Best of all, because you're dealing directly with the guides, they make more money, since they aren't doing bulk-discounts for the big tour companies.

Typical deals
There's no need to book guides or accommodation in advance. 'Guides start at about £6 a day, but if you're willing to find your own way and take your own bags, you don't need one,' says Evans. That also gives you the freedom to choose your own meals and sleep where you like, with hostels starting at £5 a night. Expect two weeks with a guide and porter to cost under £200, even if you tip well.

Other low-budget thrills
'You can hike a lot of the trails in Peru independently,' says Kraig Becker. 'Just steer clear of the Inca trail, which tends to get massively crowded and frequently shuts down for cleaning, sometimes quite unpredictably.'
Ski in Turkey
Combine skiing with a beach holiday on the Mediterranean, all on a budget. 'Most people don't know that there's good skiing in Turkey,' says Leffel. 'Check out Uludağ near Bursa, Mount Erciyes near Kayseri, and way out east in Erzurum.' For people with more money there's world-class heli-skiing in the Kaçkar mountains. Alternatively, if you head for Saklikent after March, you can ski in the morning, then hop in a car and hit the warm waters of the Med in the afternoon.

Typical deals
EasyJet does flights to several locations in Turkey starting at around £30, and you can get transfers to some of the main ski routes from Istanbul. From there you can expect to pay 'around £30 a day, lift passes and gear hire included,' says Leffel.

Other low-budget thrills
'Romania offers some of the cheapest skiing in the Alps,' says Leffel. You can pick up a package holiday to the popular resort of Poiana Braşov for around £300. Alternatively, says Dave Cornthwaite, 'head to Borovets or Pamporovo in Bulgaria.'

Dive in Thailand
Pick up your PADI certificate in a freezing British quarry or stay in Thailand for a pittance? Hmmm... 'I'd definitely recommend Thailand for those looking to get dive certified,' says Becker. 'In Phuket, for instance, you can take lessons and get a whole set of dives out of the way for a small fraction of the cost of doing it elsewhere. It's a quick, easy and inexpensive way to learn to dive in a fantastic setting.'
Typical deals
For the internationally recognised PADI Open Water Diver course in the UK, expect to spend around £400 and train in swimming pools or freezing cold water for a couple of weekends. The same course on Koh Tao will cost you roughly £200, including four nights in a hotel. It's even cheaper if you're already qualified: 'Certified divers can get two dives a day for around £30,' says Leffel. Everything else is even cheaper. 'Curries and pad Thais run from £1 on the street to £2 in a restaurant. Beer will double the cost, but if you can stomach it, Mekhong rice whisky is around £3 for a 750ml bottle.' And if you're tired out, a muscle-soothing massage is under a fiver.

Other low-budget thrills
The island of Roatán in Honduras offers some of the cheapest diving anywhere: a seven-night package, including five days of diving instruction and three-star accommodation, costs around £450.
Kayak in Australia
Get away from it all Down Under with an unforgettable canoe trip through deserted scenery. 'The Murray is Australia's most iconic river,' says Cornthwaite. 'You can spend days on the trot without seeing anybody, but there are petrol stations and townships so you've always got access to food. I'd highly recommend paddling in the Riverland region near Renmark – it's very accessible from Adelaide, and you can get information and hire canoes from Riverland Leisure Canoes. For anyone wanting a paddle longer than a couple of days there's a 150-200km stretch between Wentworth in New South Wales and Renmark that would take five or six days. It's really remote, with gorgeous scenery and wild camping opportunities.' Check riverlandcanoes.com.au (opens in new tab) and discovermurray.com.au (opens in new tab) for more info.

Typical deals
If you're camping, your only serious expense is likely to be flights. 'Book more than six months ahead and you should be able to get there for £550, which is pretty reasonable,' says Cornthwaite. 'I'd advise a 12-hour stopover in Malaysia or Singapore so you aren't wrecked by jetlag when you arrive.'

Other low-budget thrills
'Head for Peru or Bolivia and check out the Isla Uros, a series of islands in Lake Titicaca made completely from reeds,' says Cornthwaite. 'It's super-cheap to get around and absolutely beautiful.'
Save money on your Men's Fitness subscription by getting your first five issues for £5 (opens in new tab). You can download a digital version of the magazine here. (opens in new tab)
(opens in new tab)
MF's Experts
Kraig Becker
Having climbed Kilimanjaro by the notorious Machame route, Becker now runs theadventureblog.blogspot.com (opens in new tab), featuring stories from adventurers around the globe.

Tim Leffel
Leffel is an award-winning travel writer with more than 20 years' experience. He is the author of The World's Cheapest Destinations and Make Your Travel Dollars Worth A Fortune. Visit timleffel.com (opens in new tab) for more from him.
Tom Evans
A keen climber, cyclist, skier and all-round sportsman, Evans cycled around England on his own aged 18, climbed Kilimanjaro at 19 and trekked to Everest Base Camp at the tender age of 20. Go to exceedpossibility.co.uk (opens in new tab) for more on the man.

Dave Cornthwaite
Adventurer, endurance athlete and motivational speaker Cornthwaite has already skateboarded across Australia and paddled a stand-up board from Bath to London. His next project? A tandem bike ride from Vancouver to Las Vegas. Head to davecornthwaite.com (opens in new tab)for more on this dude.
Sign up for workout ideas, training advice, the latest gear and more.
Coach is a health and fitness title. This byline is used for posting sponsored content, book extracts and the like. It is also used as a placeholder for articles published a long time ago when the original author is unclear. You can find out more about this publication and find the contact details of the editorial team on the About Us page.