Paul Rodriguez speaks to MF
One of skateboarding's top pros talks to Men's Fitness about priming your body for big drops and harsh slams. And his new shoe.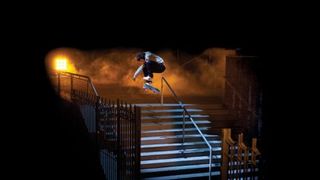 (Image credit: Unknown)
Image 1 of 2
Paul Rodriguez speaks to MF - Pictures
Paul Rodriguez speaks to MF - Pictures
How long does it take for you to get a new Nike shoe from being just an idea to a product in stores?
From drawing board to sale it takes about one solid year.

How much interaction do you have with the designers during the R&D process?
We start off with a sketch and I say if I like it or not. If I do, we make a sample, I test it, then we make adjustments. We go through three or four rounds of that until we finally get the shoe right.
Do you test the samples in secret?
I guess you could call it secret - I test them in my private skate warehouse because we don't want to let our designs get out too early. You want to build some hype around them.

Is there any sport outside of skating that influences how your shoes look and feel?
Running shoes because of the amazing tech they use. Lately we've been putting a lot of Nike's Lunarlon material into our skate shoes because it's super cushioned and super light, and with skateboarding you need the cushioning.

How much time do you spend working on your fitness outside of skating?
I mainly work on upkeep, which boils down to a lot of visits to my chiropractor to make sure my body is in alignment. I also do a lot of stretching to stay supple. Skateboarding is a good workout in itself but also it's pretty brutal and wears you down so I do these things to make sure all my muscles are able to heal properly if injured. I want this body to last as long as it can, and if you take these steps you can squeeze out a few extra years of skating.

What are some of the worst injuries you've had from skating?
I pulled my little toe out of its socket during a skate trip in Spain in 2007. That sucked. I've generally been very, very fortunate in the injury department though. And like I said, I'm doing everything I can to help prevent something serious from happening.
Can you see a time when pro-skaters have to have as strict and disciplined regimes as mainstream teamsport athletes?
Skateboarding is a young sport but I think it's kinda maturing. It will eventually get to the point were people are very fit but it will always have that rebellious street mentality.

How long do you think that the average pro-skater's career lasts?
I think it is down to the individual. I mean look at pros like Andrew Reynolds. He's still at the top of the game and he's in his mid-thirties. However, a lot of young guys turn pro then stop going for it and slack off. If you're in a more mainstream sport like the NBA and you're signed to a league, they're paying you millions of dollars and they expect you to keep training hard and performing. The coach wants you to turn up to practice at a certain time every day of the week. In skateboarding we don't really have that. Companies sponsor you and they just expect you to do what you've already been doing, which is skate. No one tells you that you have to get up to skate at 9am.


As you get older how do you see your career progressing?
At this point I feel stronger and more determined than ever. I'm just trying to be a pro skateboarder for as long as physically possible – I want to be at a high level for at least another nine or 10 years.

You've starred in a couple of movies and your dad, also Paul Rodriguez, is a well-known comedian. Is acting an area you'd like to move into further down the line?
It would great to transition into a great acting career so I could be successful at something else I enjoy, but right now my heart is in skateboarding. The only reason I ended up acting in those movies was because the roles just came to me. I didn't do anything – I wasn't looking for it. I don't take acting classes but later down the line I can see myself really studying and embracing it like I've done with skateboarding.
How did your hook up with Nike come about?
I was starting to get a name out in Los Angeles and one day I was at home when a friend who worked at a local skateshop called me and was like "hey man, Nike's rep is here and he wants to know if he can talk to you." So I went down there and he told me that they were interested in sponsoring me. I didn't really know how to handle it at first, I mean, this is Nike…Jordan, McEnroe, all those dudes! So I went up to Beaverton and met them and talked about everything. They took me on a tour of the whole campus and basically, it just blew me away. I was just like, "Wow, how can anyone not do this? I'm in."

Check out Rodriguez in Nike's THE CHOSEN (opens in new tab) video below:
For more interviews with and workouts from top extreme sports stars, subscribe to Men's Fitness. We'll give you five issues for £5 (opens in new tab).
Sign up for workout ideas, training advice, reviews of the latest gear and more.
Nick Hutchings worked for Men's Fitness UK, which predated, and then shared a website with, Coach. Nick worked as digital editor from 2008 to 2011, head of content until 2014, and finally editor-in-chief until 2015.