Five top surf spots
Surfing expert Jim Mitchell picks the UK and Ireland's best breaks for surfers of all levels.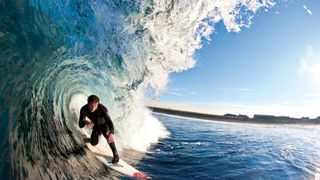 (Image credit: Unknown)
View The UK and Ireland's five best surf spots in a larger map
BLUE MARKER - Thurso, Caithness, Scotland 'This is about as remote a spot as you can get on the British mainland, but if you're a ballsy surfer who's prepared to travel it's well worth a visit,' says Jim Mitchell of surf guide publisher Wavefinder. 'It has a really long, hollow right-hand wave that breaks over a rocky reef and produces some massive barrels. It gets swell all year round and in summer it only has a couple of hours of darkness each day, so you can ride it into the night.'
GREEN MARKER - Cayton Bay, North Yorkshire, England 'The main wave here is called the Point,' says Mitchell. 'It's a steep, hollow left-hander that works best in northeast swell and can get to double-overhead height – that's 
about three metres. It wraps around the headland, giving you both speed-inducing barrels and flatter sections perfect for carving around on. If you find it a bit too punchy, there's a nearby spot called Bunker where you get mellower left- and right-hand waves breaking off a horseshoe-shaped sandbar.'
YELLOW MARKER - Gower, Swansea, Wales 'On the west coast of the Gower peninsula there's a 5km-long beach called Llangennith, which is well suited to beginners because it has lots of mellow peaks running to the left and the right,' says Mitchell. 'On the south coast there are some hairy reef breaks more experienced riders will love, such as Boilers and Sumpters reef where you get steep, powerful waves breaking on shallow rock slabs.'
ORANGE MARKER - Bundoran, Donegal, 
Republic of Ireland 'This north-facing spot in Donegal bay has a reef in the shape of an A-frame,' says Mitchell. 'When water hits it you get hollow, powerful left- and right-hand waves. These will be too much for beginners but give those who've been surfing for a while a real buzz. In addition, unlike at many surf 
spots, the regulars here have a reputation for being friendly to visiting surfers, so 
as long as you behave you're unlikely 
to get any abuse from the locals.'
PURPLE MARKER - Watergate Bay, Cornwall, England 'This 5km-long beach is one of the few spots in north Cornwall that works through all tides,' says Mitchell. 'This means that on a good day you get quality waves peaking along the entire beach all through the day, and it's why so many of the local pros can be found plying their trade here. The English National Surf Championships are also held here every year.'
Go to wave-finder.com to get your hands on a huge selection of extreme sports spot guides, including Wavefinder's UK and Ireland guide, which costs £12.95 and features more than 300 surf spots. For more actions sports stories, subscribe to Men's Fitness. We'll give you five issues for £5.
Sign up for workout ideas, training advice, reviews of the latest gear and more.
Nick Hutchings worked for Men's Fitness UK, which predated, and then shared a website with, Coach. Nick worked as digital editor from 2008 to 2011, head of content until 2014, and finally editor-in-chief until 2015.