Gus Kenworthy interview
We spoke to the freestyle skiing champ about making up tricks and London's upcoming Relentless Freeze Festival.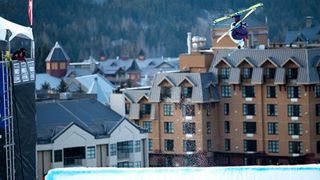 (Image credit: unknown)
At what point did it become your goal to become a pro skier?
When I was 13 I broke my leg pretty severely and spent the entire season recovering. Until my injury I had been juggling skiing with ice hockey and I just skied for fun, but having to sit out for four months while my leg healed made me realise that all I wanted to do was ski and that I wanted to be a pro skier. This past season was the first time that I really thought of myself as a professional athlete. In skiing, the distinction between professional and amateur is pretty blurry. This past season marked my X Games debut and my first podiums in major top-tier events, and I ended up walking away with the AFP overall world champion title for the year.

Do you think sites like YouTube and Vimeo have changed the way people get hooked up?
I definitely think that video sharing sites have had a huge impact on the way people are making names for themselves and picking up sponsors. Until recently your legitimacy as a professional skier was based almost entirely on your competition results. In the past few years there's been a new wave of athletes getting unprecedented levels of recognition based solely on their online presences from video edits. It's pretty cool to see kids breaking ground and catapulting themselves into the limelight with little more than a video camera and a YouTube account.

Do you focus on one type of skiing (back country, park, street) or are you more of an all-rounder?
Most of the professionals that are at the top of the scene right now are particular to one event and tend not to compete in multiple disciplines. You can risk spreading yourself too thin by trying to keep up in too many events at once so I have worked really hard to stay at the top of my game in just slopestyle, big air and superpipe.

In some mainstream sports, athletes aren't allowed to do sports outside of what they're being paid for. Can you see a time where sponsors will demand the same from their skiers?
As skiing becomes more and more mainstream I think that skiers are beginning to take themselves more seriously as athletes on and off the hill. Because the stakes keep being raised with sponsors and new events, I think people will choose to take less unnecessary risks by taking part in sports other than their own.
What's the single hardest trick you've shot so far?
A few months ago I did the first ever double flip off a rail. Because you have to pop off a rail to set the trick rather than off snow, and because it's so risky it was definitely the scariest trick that I've ever shot.

Like most pro athletes, you've suffered injuries. How much have they blighted your career?
Injury has played a huge role in my career. It's definitely frustrating having to sit out during contests and photoshoots due to injuries but sometimes they are a blessing in disguise. During the season you're normally going as hard as you can all the time and even though it sucks to have to stop, your body appreciates the rest that it gets during an injury. Plus the whole time that you're out injured you're thinking about tricks that are possible and runs you want to do, so when you are ready to ski again you're hungrier than ever to go out and slay it.

What's the scariest thing you've gone through on the mountain?
When I was 14 my best friend Hoot was killed by a snowcat [a tracked snow vehicle] during a photoshoot in the Telluride terrain park. It was a really traumatic experience and for a while I wasn't sure if I even wanted to ski again. In the end I decided that skiing is what I love to do and I think that Hoot would want me to keep skiing and to succeed in it, so that's exactly what I'm planning to do.

How much gym and cardio training do you do?
Probably not as much as I should be doing, I mostly just ski. I don't really have too much of an off-season any more – once the end-of-season park shoots are wrapped up I head up to Whistler in Canada and ski the glacier for the beginning of the summer. This year for the first time I went to Mount Hood in Oregon after the Whistler glacier closed. I usually finish off the summer down in New Zealand and then travel to the city big airs [such as the London Freeze] during the fall. Shortly after that the regular contest season is back in full swing all over again.
One of the city big air competitions you're entering this year is the Relentless Energy Drink Freeze Festival in London in October. What can people expect to see from you there?
Hopefully a good show! If the jump is big enough, I'd love to do a double cork 1440 , but I think it will all depend on the set-up. The London Freeze has been a super fun event for me over the years so I'm just looking forward to coming back and checking things out again this year. Plus because I was born in England my mom and my aunt and uncle usually come out and watch, which is great.
What are your plans for the upcoming season?
Basically to compete as much as possible. As long as I stay healthy the whole time, there's a good opportunity for me to do really well. I'd like to stay on the podium consistently in slopestyle as well as halfpipe and big air. I definitely want to defend my AFP overall title again next year.
For more interviews with top wintersports stars, subscribe to Men's Fitness. We'll give you five issues for £5.
Sign up for workout ideas, training advice, reviews of the latest gear and more.
Nick Hutchings worked for Men's Fitness UK, which predated, and then shared a website with, Coach. Nick worked as digital editor from 2008 to 2011, head of content until 2014, and finally editor-in-chief until 2015.