Pete Irving interview
Top UK welterweight Pete Irving is about to fight John Maguire for the Cage Rage welterweight crown. MF caught up with him to talk training.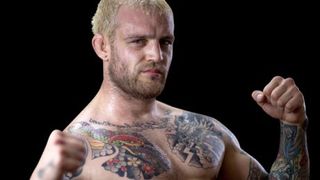 (Image credit: unknown)
You're fighting John Maguire on Saturday. How's training been going?
It's been a hard camp. We've had some good people in for sparring. I've been sparring with Jon Durant here at Urban Kings gym – he's a commonwealth kickboxing champion, he's left-handed [like John Maguire] and has a long reach. I've been working with Sonny Dholakia, Paul Daley's strength and conditioning coach, and that's good mental preparation because his workouts are so tough they're like the hardest fight you could ever have. I really like Sonny's style. Tyre-flipping has its place, but it's easier to assess form and track your improvement on a deadlift.

You're fighting for the welterweight championship. Does a title being on the line make a difference to you psychologically?
I've had a couple of fights where I've been defending belts and I get to the third round thinking, 'Yeah, this is in the bag.' You can't do that in a title fight, if you have two strong rounds and a weak third, you might not take it. You have to take titles decisively. I think the welterweight division especially in the UK is really strong right now. You've got guys like Jim Walhead and Paul Daley fighting over here, it's a real hotbed for talent. I've been going around sparring with other guys who aren't really known yet, and I met a couple of guys in Liverpool – I don't want to jinx them by saying they're the next big thing, but they're really shit-hot. It's a hard division to live in. I'm glad I'm going to be retired in three or four years – some of the guys that are coming through are going to be killers.

It's your first fight since getting your black belt under Leo Nagao. Does that give you a boost?
I don't know. Obviously it's an honour to have my black belt, and I'm really glad that Leo rates me enough to give me that award, but it's MMA, not jiu-jitsu. I'm not even sure that John Maguire has a belt, but he obviously can grapple and has grappled at a black belt level. In a way there's pressure to defend jiu-jitsu – during my entrance I'll be wearing my gi, wearing my belt and showing what I'm about. I've got jiu-jitsu tattooed across my belly, it's my life.

Have you got a prediction?
I don't really like to give predictions. If I knew what was going to happen, why would I turn up? That's the exciting thing, I'll find out when I get there.

Cage Rage will be live on Sky Sports on Saturday 17th of September – see ucmma.com for more details.

Pete Irving is MMA and wrestling coach at urbankingsgym.com. For more interviews with top fighters, subscribe to Men's Fitness. We'll give you five issues for £5.
Sign up for workout ideas, training advice, reviews of the latest gear and more.
From 2008 to 2018, Joel worked for Men's Fitness, which predated, and then shared a website with, Coach. Though he spent years running the hills of Bath, he's since ditched his trainers for a succession of Converse high-tops, since they're better suited to his love of pulling vans, lifting cars, and hefting logs in a succession of strongman competitions.