MF interviews cliff diver Gary Hunt
MF caught up with top cliff diver Gary Hunt to talk death-defying dives and how you train for them.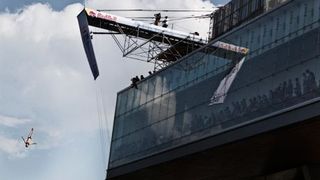 (Image credit: Unknown)
How do you cope with fear just before a big dive?
I try not to think too much about the dive before I step on the platform otherwise I get too nervous. Once I'm on the platform the adrenaline kicks in, I concentrate on doing a perfect dive and try to block out any negative thoughts.

What's your warm-up dive in a competition?
A triple half is usually my first dive. I'm very comfortable with this dive and I can get a good feel for the height.

What's your showpiece dive?
I would say my front quad with one and a half twists. It's my favourite dive and I feel that I can do it well under pressure.
Where's your favourite place to dive?
The cenote [a deep natural sinkhole] in Yucatan in Mexico was one of the coolest places I've dived. We dived into a 20m deep cave so it was very different from a regular cliff.

How can you get into cliff diving?
The best way is to start in the diving pool. Once you are comfortable diving from the 10m board the next step is to do a diving show - somewhere with a ladder and a moveable platform. Then you can slowly work your way up. Just jumping straight from 27m is definitely a bad idea.

What kind of training do you do outside of diving?
I mix up my training a lot. My conditioning consists of abs work and lots of plyometrics. I also do trampolining, gymnastics and even a bit of trapeze to improve my spatial awareness.
What's the most complicated dive you've done?
That would be my back triple with four twists. I was probably the most scared I've been in my life before trying it for the first time. I literally didn't know if I was capable of doing it - I just had to jump and hope.

What are your aims for the current/upcoming season?
Next season I want to dive a bit more consistently. I often make mistakes with my required dives. Also I would love to do a perfect dive, getting a ten from every judge.

Who is your biggest rival?
[Nine-time world champion] Orlando Duque is my biggest rival. He's so consistent and he enters the water with not even enough splash to fill a teacup.
Is there one dive that's guaranteed to get you on the podium?
The quad twisting triple is my biggest weapon. Hitting that dive doesn't guarantee my a podium spot, but it definitely helps.

For more info, visit redbullcliffdiving.com

For more interviews with top athletes, subscribe to Men's Fitness. We'll give you five issues for £5.
Sign up for workout ideas, training advice, reviews of the latest gear and more.
Nick Hutchings worked for Men's Fitness UK, which predated, and then shared a website with, Coach. Nick worked as digital editor from 2008 to 2011, head of content until 2014, and finally editor-in-chief until 2015.