Micah Lester surf interview
O'Neill pro surfer Micah Lester caught up with MF to talk line-up etiquette, how to progress to the next level and surfing in Iceland.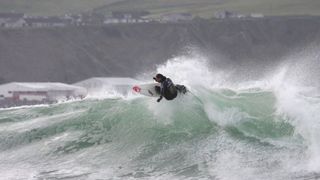 (Image credit: unknown)
Does coming from a skateboarding or snowboarding background help you in surfing?
It definitely helps you control the board but the big difference is that in surfing the platform is always changing. When you're trying a trick, you have to predict what the wave's going to do rather than just spotting a line.
What are the rules when it comes to the line-up?
Whoever's closest to the breaking part of the wave has the right of way.
So is there a polite place to paddle to when there are a load of people already sitting out in the line-up?
Yeah, you'll basically see people lining up so you just have to paddle to the end of the line and wait your turn. You'll slowly move up the pecking order once people start getting waves. But say if you're surfing somewhere like Burleigh Heads in Australia, there will be a hierarchy where the locals have put the time in so it's their break. They'll queue jump every time, and you've just got to come to terms with that.
MF has seen pictures of you glacier surfing in Iceland. Is that the coldest place you've ever surfed?
Nah, obviously there're massive icebergs and it's freezing but the coldest place I've surfed is at a river break in Munich, Germany on a winter night. It was -15.
How did you deal with the cold?
The wetsuits are so good now that when I was swimming with the icebergs I actually got a bit hot. I had to take my hood off and splash myself with water but I got the worst ice-cream headache! In Munich, it was fine when I was in the water but by the time I came out my wetsuit, hair and board had frozen. Getting my suit off was a pain in the ass.
Give us three top for someone who's been surfing for a while and wants to step up to the next level?
The first one is paddle harder. Too many people paddle for a wave and wait for the wave to push them before they get to their feet. If you paddle harder you'll get on the wave earlier, you'll have more speed and everything becomes easier. Next one is hold your turns longer. If you want to maintain speed on the wave for longer, get down low on your rail (edge of your board) and hold it. Lastly, travel. Try as many boards as you can and surf as many different waves as you can – you'll be a more versatile, more fulfilled surfer.

For more exclusive action sports interviews get the magazine, subscribe now and we'll give you five issues for £5. (opens in new tab) Oh, and you can download a digital version of the mag here (opens in new tab).
Sign up for workout ideas, training advice, the latest gear and more.
Nick Hutchings worked for Men's Fitness UK, which predated, and then shared a website with, Coach. Nick worked as digital editor from 2008 to 2011, head of content until 2014, and finally editor-in-chief until 2015.