2012 Olympic champion Chris Hoy
Britain's Chris Hoy explains how you can achieve your goals, whether you're a keen amateur or the world's best track cyclist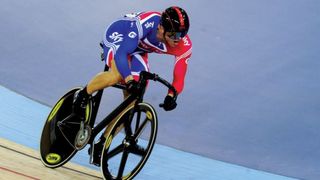 (Image credit: unknown)
Long acknowledged as one of the world's finest cyclists, Chris Hoy did not achieve the wider recognition he deserved until the age of 32, when in 2008 he won three gold medals at the Beijing Olympics. Accolades including the BBC Sports Personality of the Year and a knighthood followed. As Hoy tells Men's Fitness, his 12 world championship golds and five Olympic titles – including the gold he and team-mates Jason Kenny and Philip Hindes just won in the 2012 Olympics team sprint – are down to unparalleled commitment, perseverance and sheer will to win.
Enjoy every second
Above all else you've got to enjoy it. It was always a dream to ride my bike but I never thought I could do it full-time. Now I treat each day with the same importance as I would a race day. It's not about thinking, 'the Olympics are four years or six months ahead' but thinking in the now. Give 100% in every session. If you do that you can't fail to reach your best.
Find your motivation
Motivation for me is twofold. On one hand it's the goal of stepping up onto that podium with another medal around my neck, but on the other it's the day-to-day. When I was younger I looked at the guys who were beating me and tried to identify what it was that made them successful. Now I know if I have a very good session, regardless of how small, it's a step in the right direction. If you do the work, you should get the results.
Don't hold back
I was at university at St Andrews having a great time but I had this lingering doubt. I hadn't given cycling a real go. I had a good junior year, turned 18, went to university and didn't ride for six months. The fork in the road came when I was invited to train in Manchester once a month and I took it. Loads of people I used to race with who chucked it in have got in touch since. You can tell they're thinking, 'I wonder if I could have been an Olympic champion'. If you don't try, you'll never know.
Push your limits
Training is always hard but the worst is the lactic acid tolerance intervals I do. On a static bike I do my full set and then literally collapse onto a crash mat and curl into a ball. It's horrible. The sting just gets worse as the lactic levels get higher and your body tries to flush it out. The muscles are burning and you're nauseated by the exertion. I often end up being sick. Every time you do it, it's like it's never been this bad. Then after 15 minutes – almost to the second – you feel fine. Then you do another set and go through it all over again! The pay-off is there to see in competition.
Focus on yourself
When you're on the start line, that's where your mental skills come into play – your mental preparation, visualisation, strategy. Mental preparation is as big a part of your training as the physical side. Focus on yourself. You need to dominate the race and impose your tactics. In track cycling it's rare that there are any mind games or sledging. Everybody knows how hard you've trained. Everybody knows what it's like to win or lose. If you're winning, the thought of what it's like to be beaten is never too far from your mind.
Be your own coach
I'm lucky that I benefit from a supporting team. They're absolutely crucial and the envy of the world. When we're standing there on the podium, a little bit of that medal is theirs too – even though they're not going to get it off me! But if you don't have this support you've got to be organised. Identify your goal and break it down into chunks. If you have a plan you're far more likely to realise your goals in the long run.

Chris Hoy is an ambassador for Gilette, who are offering to fund coaching qualifications for men across the UK as part of the 'Great Starts' campaign. To apply for a coaching grant visit facebook.com/gilletteu (opens in new tab)
Sign up for workout ideas, training advice, reviews of the latest gear and more.