MF meets Team GB rower Alex Partridge
Team GB's rowing team won bronze in the most thrilling race of London 2012. MF spoke to team member Alex Partridge about this experience.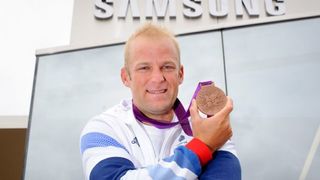 (Image credit: Unknown)
Congratulations on winning bronze – were you happy with that?
Of course we were aiming for gold. Germany [the race winners] have a great team right now [they're unbeaten in four years], but they won last year's world championships and before them no-one had won the championships and the Olympics in successive years. We knew we had to get off fast to be in with a chance, which we did, but by the end our mouths were writing cheques our bodies just couldn't cash.
How did it feel competing in an Olympic Games as the home team?
It was incredible. The roar the crowd was making became more than a noise – I've never heard anything like it. It became a physical sensation that drove us forward. It was so loud and intense that we all pushed harder than I ever thought was possible. We were all so exhausted by the end I'm not sure we would have got over the finish line without it.
Rowing training is notoriously punishing. Did you manage to stay in good shape in the lead-up to the Olympics?
I had a good year in the run-up to the games. However, in the past I've had things like slipped discs, a collapsed lung [which forced Partridge to sit out the 2004 Athens Olympics] and various other injuries. When things like that happen, frustrating as it can be, the best thing is to rest until it's properly healed then train like mad when you are fit again.
In a rowing eight do you all follow the same training schedule and diet plans?
Yes, in terms of training, but with an age range of 20 to 40 in the team diets vary. There's a team nutritionist who makes sure we all eat properly, but my metabolism isn't what it was when I left school so, for example, I have to be much more careful than Constantine [Louloudis, 20] with what I eat. That's all out of the window right now though!
What training do you do out of the boat?
We do a lot of cycling to improve endurance, and strength training in the gym for explosive power in our arms and legs. Building endurance is probably the most important aspect of our training because it's what enables us to dig in at the end of a race, so we go on four- to six-hour cycles to improve our extra energy reserves.
What have you learned from competing in London 2012?
First of all, just how hard the body can go. During our race the encouragement of the crowd pushed us to a point that I didn't know I could physically get to. Second, I realised that though I'm getting older I'm still able to perform at the highest level. Going into London 2012 I felt it could be my last Olympic games, but now I'm not so sure.
So, will we see you competing at Rio in 2016?
Right now I'm on cloud nine – there's no way I can make any rational decisions about the future until I have had a breather and a bit of time off. So I'm taking a break from rowing for a bit and taking part in the Deloitte Ride Across Britain cycle challenge, going from Land's End to John o' Groats. After that I should be in a position to make a decision about the future.
What's been the proudest moment of your career so far?
Standing on the podium in London last week and hearing the response of the crowd. Also, Michael Johnson was one of my heroes growing up and he came up to one of my team-mates and said although he didn't know much about rowing he thought our race was epic. That was pretty special.
Alex Partridge is part of Team Samsung and is inviting everyone to participate in the spirit of the Olympic Games with the Samsung Hope Relay app and raise money for charities like the Kids Company (opens in new tab). To take part, download the app now for free at www.samsung.com/hoperelay (opens in new tab)
Sign up for workout ideas, training advice, reviews of the latest gear and more.
Max was the head of digital content for Men's Fitness which worked alongside Coach between 2015 and 2019.