Ben Ince's Virgin Active Indoor Triathlon blog part 4
Ben Ince takes on this unusual indoor multi-discipline race, competing against gym-goers across the UK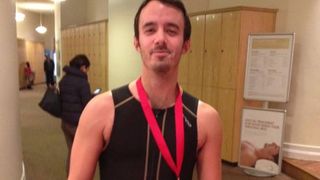 (Image credit: Unknown)
I set off for the Virgin Active gym at Swiss Cottage on race day feeling pretty well prepared, but still not sure exactly how I'll get on. I've done a triathlon before – a sprint distance earlier this year – but this event is so unusual that, despite my month's training, I don't really know how my body will respond to the challenge.

On arrival I'm given a reminder of the race rules. The running leg will be 1.2km long and it'll be up to me to control my tempo on the treadmill. Then comes a two-minute transition period – which unlike a normal triathlon won't count towards my time – to prepare myself for the second stage, a 5km cycle on an exercise bike at a set resistance. After another transition period, this time five minutes, I will swim 200m in the pool, which means eight lengths.

I get changed for the start and, although the transitions aren't being timed, I decide to wear my triathlon suit anyway. This is both for the sake of convenience and to help get myself in the mindset of it being an actual race as opposed to a normal gym session.

After a brief warm-up, I head to the treadmills, where a race official is waiting to time my run. I've decided on 14km/h as my baseline speed for the run leg, with the option to ramp it up towards the end if I'm feeling fresh enough, so I speed up the treadmill to that speed as quickly as possible. A few minutes later I'm three-quarters of the way through and feeling good, so I up the tempo to 16km/h and power through the last minute and a half.
The transition seems surprisingly long – clearly the interval running and cycling training sessions are paying off – and I get on the bike feeling confident. With the resistance set at level 5, I'm aiming to maintain a minimum pace of 130rpm throughout. To my surprise, I settle into a comfortable rhythm at 140rpm and maintain it for five minutes. With the ending in sight and buoyed by my successful late push on the run, I up my pace to 150rpm for the final kilometre, pedalling like a maniac until the official shouts 'stop!'

I'm panting hard after the cycle, so I take full advantage of the five-minute transition period to get my breathing back under control and my heart rate down. Swimming is by far my weakest of the three disciplines – in my previous triathlon I swam breast stroke the entire way. I've been working hard on my front crawl though, and I'm determined to use it for as much of the 200m as possible.

Pacing myself is crucial, so I start slowly to establish a comfortable rhythm. I feel good for the first three lengths, but as I reach the halfway point I can feel my calves getting heavy – probably thanks to getting carried away on the final kilometre of the cycle – and my form begins to degenerate, which saps my energy and makes my breathing far more laboured. Halfway through the fifth length I bite the bullet and revert to breast stroke. I'm disappointed in myself for not being able to sustain the front crawl, but my speed immediately increases, and I complete the final two and a half lengths strongly. Exhausted but pleased with my run, cycle and overall performance, I emerge from the pool and receive a medal.
A few days later I check the Virgin Active website and find, to my surprise, that my 4min 50sec run, 7min 2sec cycle and 4min 45sec swim placed me first out of the 27 competitors at Swiss Cottage, and 152nd out of the total 2,093 nationwide. Having enjoyed the experience and exceeded my expectations, I'm now looking to push on and compete in a full Olympic length outdoor tri next year.

For more information about other Virgin Active events, visit virginactive.co.uk

For more traning insights, subscribe to MF - we'll give you five issues for £5.
Download a digital version of the latest issue from iTunes.
Sign up for workout ideas, training advice, reviews of the latest gear and more.
Coach is a health and fitness title. This byline is used for posting sponsored content, book extracts and the like. It is also used as a placeholder for articles published a long time ago when the original author is unclear. You can find out more about this publication and find the contact details of the editorial team on the About Us page.